Oittm Smart Aroma Essential Oil Diffuser review
Get more comfortable sleep with Oittm Smart Aroma Diffuser
Oittm Smart Aroma Diffuser : What is it ?: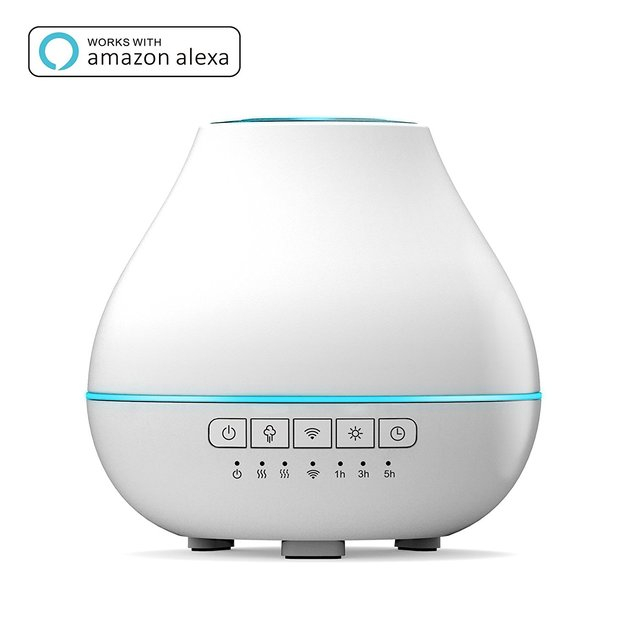 In simple words , Smart Aroma Diffuser by Oittm is a 'Smart' gadget for getting fresh and moisturized air . If you have any sleeping problem due to lack of moisture in the air like nasal problems, eye itching, dry skin etc., then this device would be a great companion. You can place it near your sleeping bed to get moisture and fresh air continuously for a long time. Drip the essential oil 2-3 drops into the water tank and it will give you a faint aroma to relax your mood. Let me give you a quick overview of the product before you make any decision :
Overview :
Oittm Smart Aroma diffuser is a 12W device with a water capacity of 200ml . It can work up to 8 hours continuously with a mist output of 30 ml to 40 ml per hour. Made of ABS+PP material , this product is heat resistant and the base is joined with a anti-sleep soft rubber tripod. Also it uses advanced ultrasonic technology that keeps it running without making any noise.
Auto shut off:
When the water runs out, it automatically shuts down. So,no need to worry if you forget to turn it off. Not only that, this feature also extend the lifetime of the device and saves electricity.
LED lights :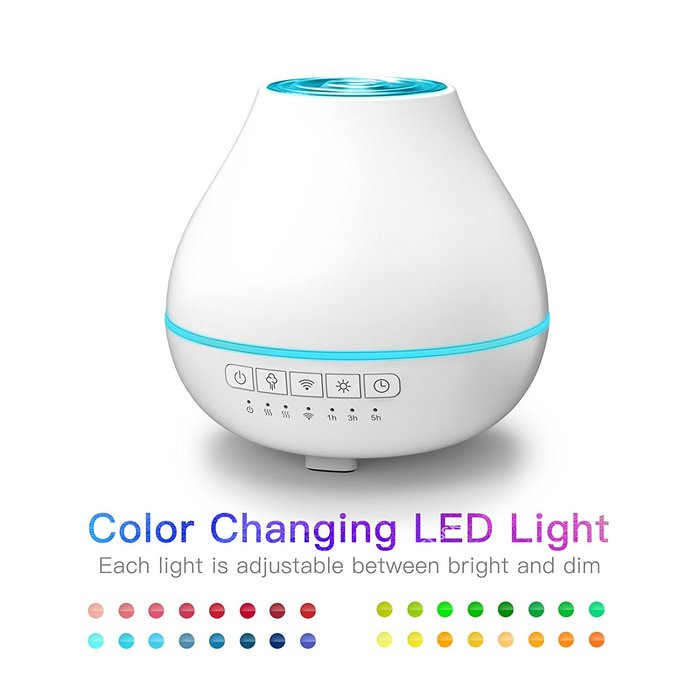 7 LED lights are available for indicating different informations like wifi connectivity, time remaining, power etc. The color of these lights can be changed. You can choose all colors cycling or one single color to create a relaxing and romantic atmosphere. Eye friendly soft lights are good for night . If the water is empty, it will blink and turn off.
Smartphone Control :
Either you have an Android phone or a iPhone, you can control it from anywhere you want. Download the Oittm Smart app from Playstore or Appstore and control it with your smartphone or tablet. You need to keep it connected to the wifi to controll it using a smartphone. The app is compatible with Android 4.1 and higher or iOS 8.0 and higher.
Google Assistant and Alexa compatible :
Just say "Alexa, turn on the Aroma" and it will be turned on. Change the name to anything you want . This product works with Google Assistant and Alexa devices. Voice command works only for turning on and off. Light color and mist mode cannot be changed.
Make schedule :
You can make hourly or daily schedule to automatically turn it on and off. This will help to save more electricity without keeping it on unnecessarily.
How to connect :
Insert the AC Adapter into DC port of the bottom.
Take off the outer cover , water tank cover and add pure water. Make sure not to add more than 200 ml and not less than 50 ml.
Drip the water-soluble essential oil of 2~3 drops into water tank ( Optional )
Close the cover tightly
Plug the AC Adapter into Power Outlet and start it.
Uses Guide :
Clean it at least once a week . Use neutral detergent for cleaning.
Always add pure water
If you are adding essential oil, make sure it is water soluble.
Don't open the outer cover while running.
Always turn it off before refilling.
Make sure that the water is always in range ( 50ml to 200ml)