Best digital tire gauge you can buy in 2020
Introduction:
It is a good habit to check the tire pressure regularly. Digital tire pressure gauge is a small digital device that allows you to check tire pressure easily. You don't have to rush to a driving station for this small task. In this post, we are listing down the best digital tire pressure gauge available currently in the market. You can go through the list and make your own choice :
TEKTON 5941 Digital Tire Gauge, 100 PSI :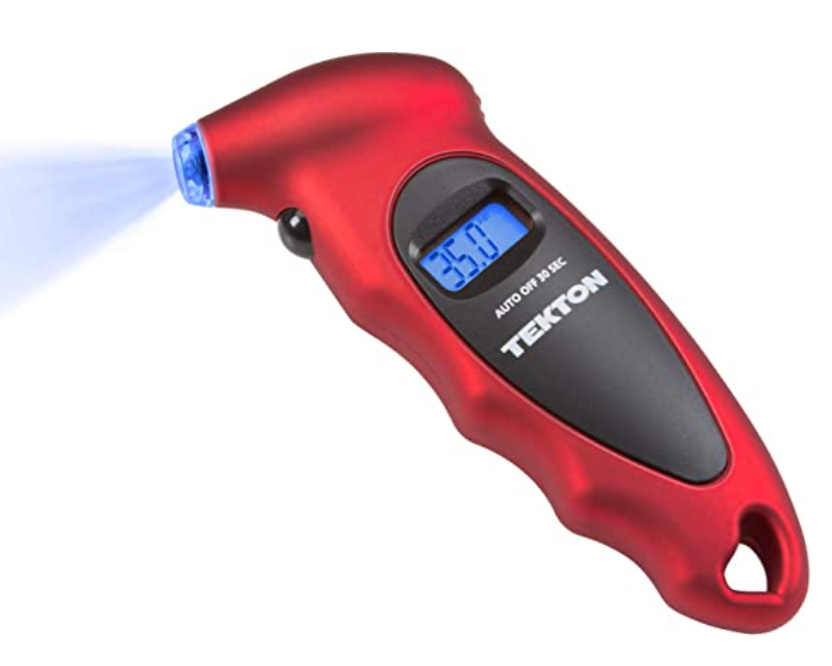 TEKTON 5941 is a simple and easy to operate Tire Pressure Gauge. It has four different measurement settings. Just turn it on using the button and select the reading you want to use. One LCD screen is on the side to show you the reading. The best part is that it can measure pressure at 0.5 level of increment and it will get you the most accurate information.
The four measurement settings we have mentioned above are : 0-100PSI / 0-7Bar / 0-7Kgf/cm² and 0-700KPA. The LCD display will show you the pressure in the same format you have selected at start time. It will mark the reading like for PSI, it will show you 'PSI' above the pressure number. It will turn off automatically after 30 seconds of use to save the battery. For the night, it comes with one small light at the nozzle that will help you to find the valve steam on low light areas.
Things we love :
Easy to use, four different settings to select at the start.
Automatically turns off to save the battery.
Comes with one small light at the nozzle that is really helpful at night.
LCD display is easy to read.
Accutire MS-4021B Digital Tire Gauge :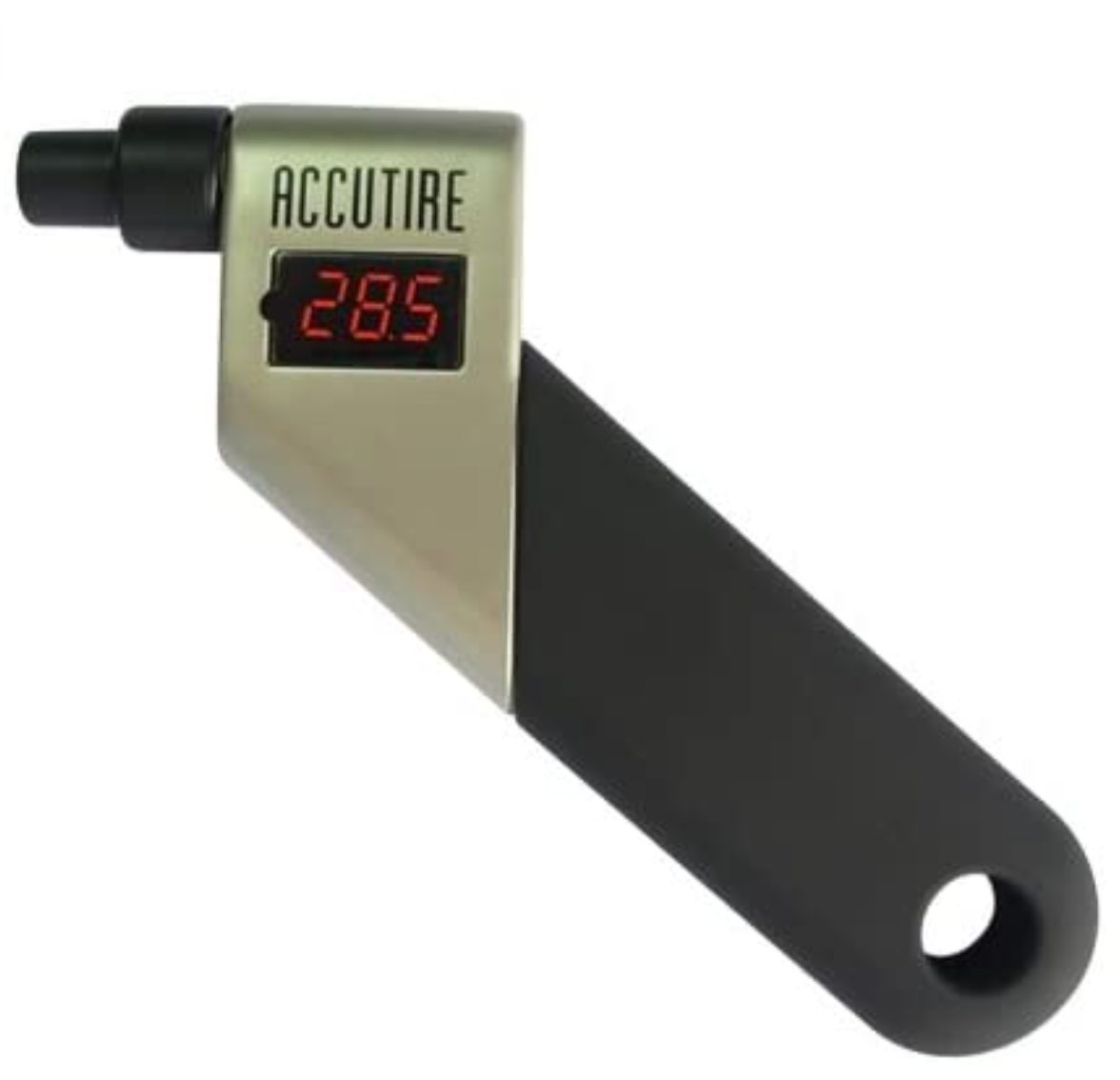 Accutire MS-4021B Digital Tire Gauge comes with a large, easy to read LCD display and a rubber coated handle. It can provide reading from 5 to 150 PSI with an increment of 0.5 PSI. The ergonomic design is easy to hold. The nozzle offset is 45 degree off the handle . That makes it easier to fit on the tire valve.
It runs on batteries and the batteries are replaceable. For normal use, batteries can lasts for years. If you forgot to turn it off, its automatic shut off system can turn off automatically to save the batteries.
It is a simple and budget tire pressure gauge. It doesn't come with a lot of features but it does the work and better than most of the other tire gauge at this price range.
Things we love :
Simple and heavy duty construction
Large display.
Replaceable battery. Automatically shuts off to save battery life.
5-150 PSI pressure reading with 0.5 increment.
NUWA Tire Pressure Gauge Keychain Ring :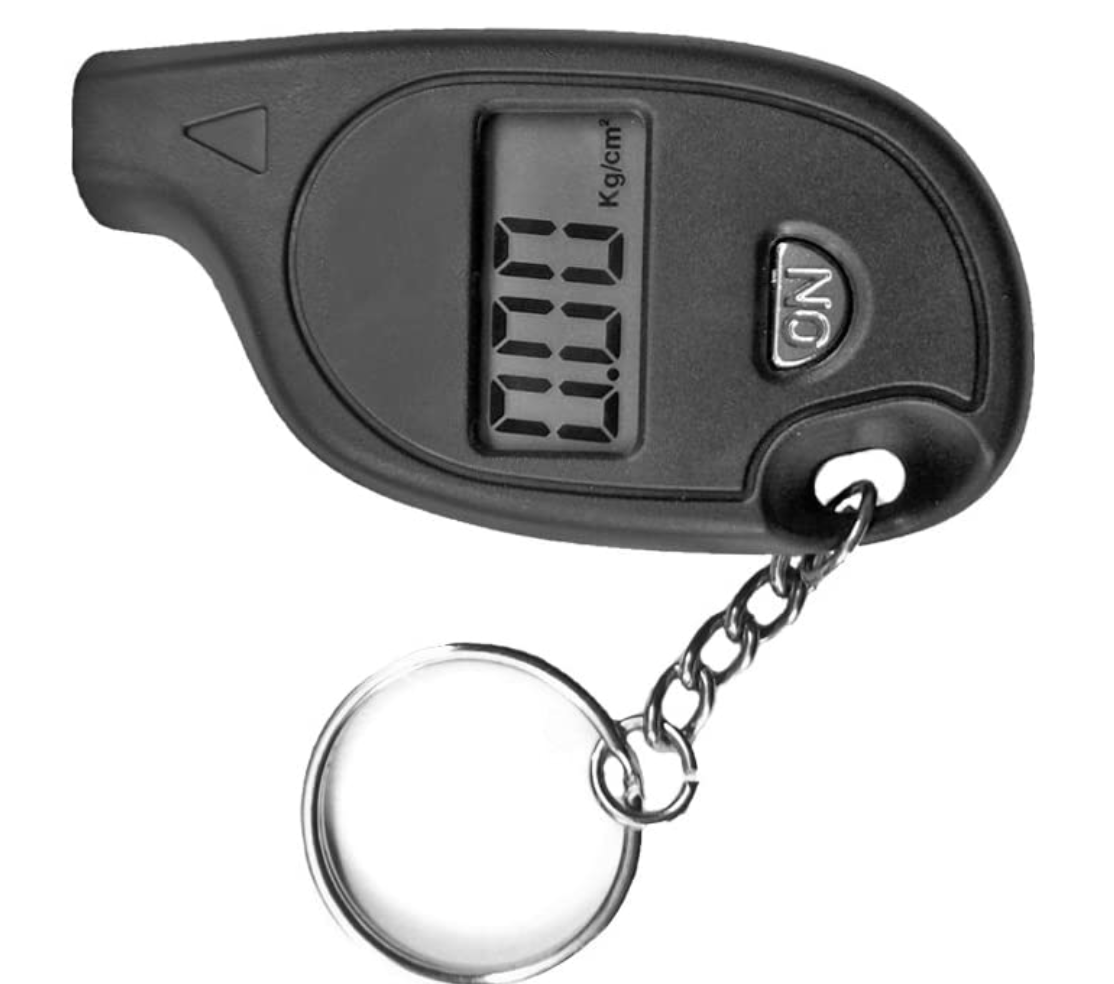 NUWA tire pressure gauge keychain ring is only 3.85 x 1.77 inches and weighing 3.2 ounces. Don't go for the size, this little device can read pressure accurately in PSI,Bar,Kgf/cm² and KPA unit. The ranges are 3-150 for PSI, 0.20-10 for Bar, 20-999 for KPA and 0.2-10.0 for Kgf/cm². The body is constructed with ABS plastic and it also features a 2110 mm LED display to show the reading. The LED display is easy to read even on low light areas .The NUWA pressure gauge keychain comes with one built-in *lithium battery and auto shut off functionality to automatically shut down if not in use.
Things we love :
Small sized device.
LCD display . Easy to read even at night.
Four different reading settings.
Auto shut off functionality.
TACKLIFE TG01 Digital Tire Pressure Gauge :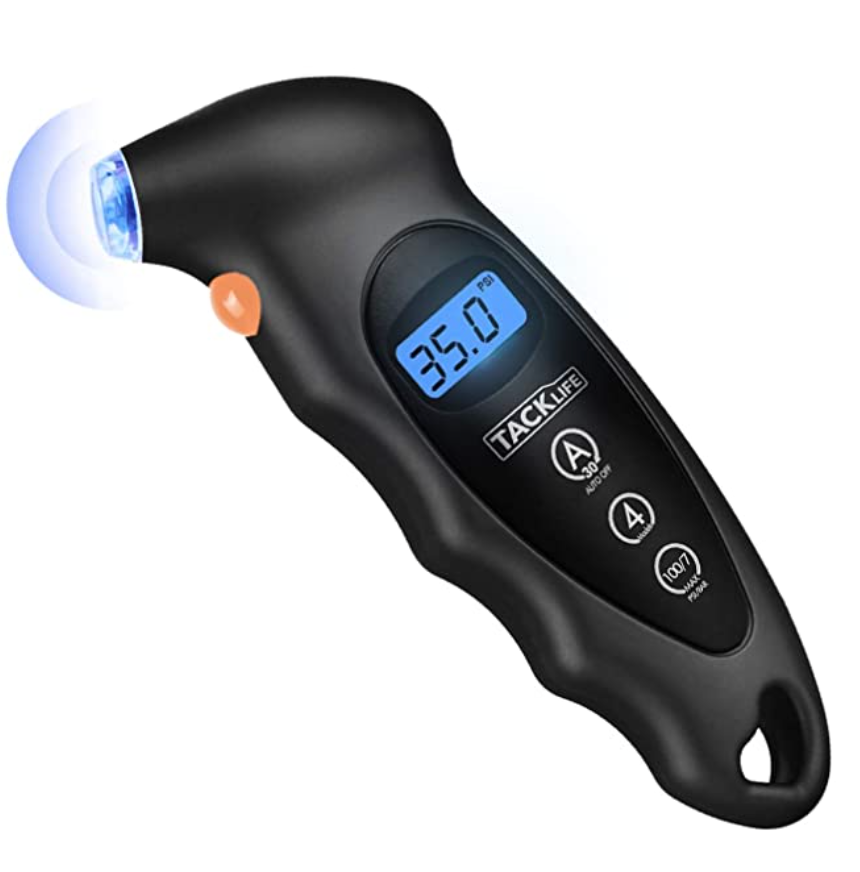 TACKLIFE TG01 is a well-designed tire pressure gauge that can be used for car, trucks, motorcycles or bicycles . The ergonomic design fits on any hand-size and the textured body pattern helps to hold the grip. The battery is included , so you can use it right out of the box. The batteries are also replaceable. You need to open the battery cover using one screwdriver to replace them. If you forgot to turn it off, it can automatically shuts off after 30 seconds to save the battery life. Tacklife TG01 has one backlit LCD screen for showing the reading data. The reading is easy to understand and the blue light of the LCD screen makes more comfortable to read the reading at night. You can choose from 4 different pressure measurement settings 0-150PSI / 0-10Bar / 0-10Kgf/cm² or 0-1000KPA. You can use the same on/off switch to change the settings.
Things we love :
Small sized device.
Backlit LCD screen.
4 reading settings : 0-150PSI / 0-10Bar / 0-10Kgf/cm² or 0-1000KPA
Automatic turn off feature. Check Price on Amazon
AstroAI Digital Tire Pressure Gauge: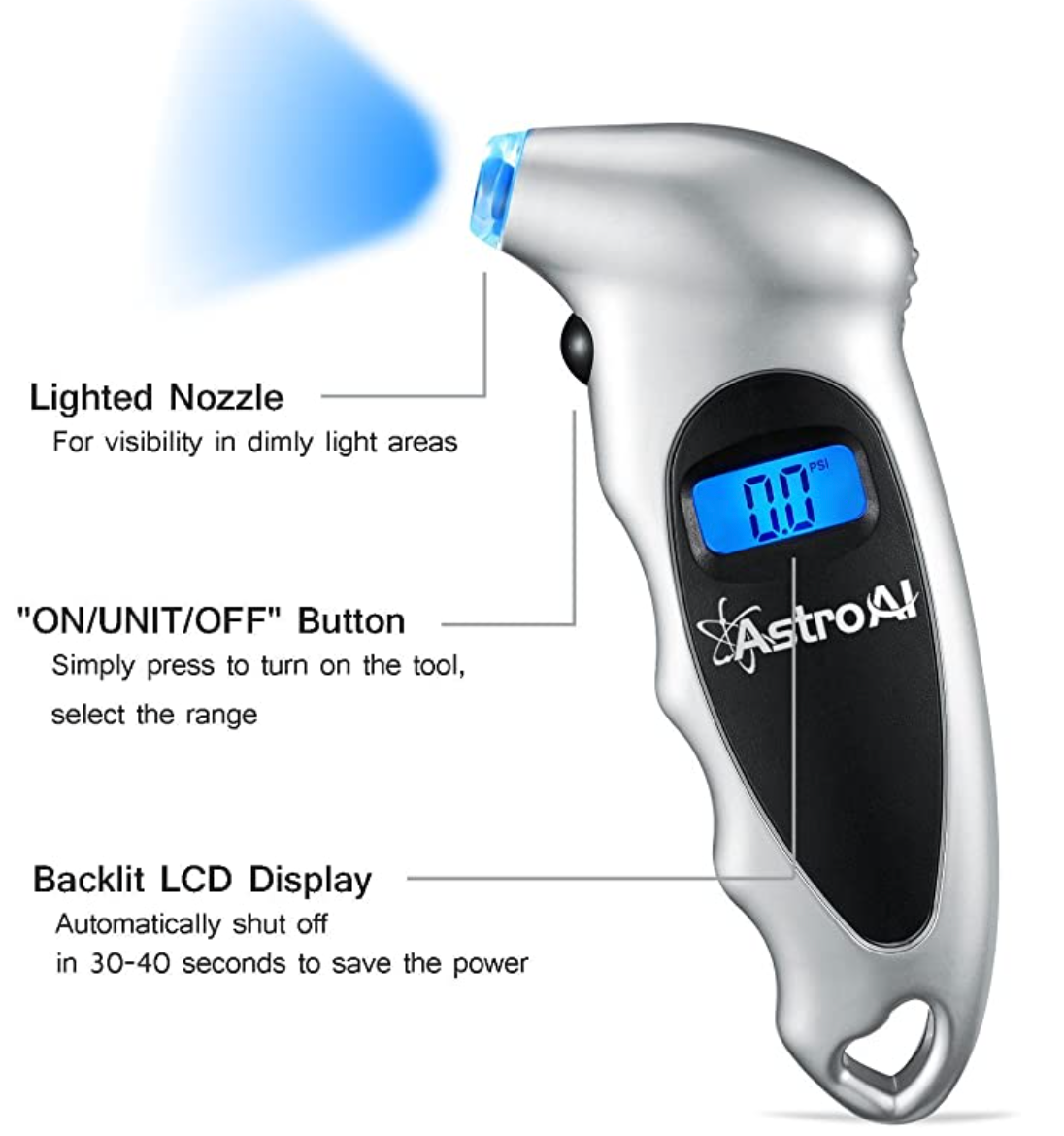 The AstroAI Digital Tire Pressure Gauge comes with a LCD display with different configurable settings. Non slippery handle is easy to hold and the ergonomic design is best for both man and woman. The length of the unit is 5.31 inch and width is 2.17 inch. Keep it inside your backpack or in the glove compartment of your car : this small sized device is a perfect accessory for any types of vehicle.
It is easy to operate. Simply press the on/off button and select the range : that's it. Four different settings are available to select : 0-150PSI / 0-10Bar / 0-10Kgf/cm² and 0-1000KPA. It has one lighted nozzle to illuminate your work area at night. It provides reading at 0.5 level increment, means you can have the most accurate reading using this device. One more thing we love is its battery saving design. After 30/40 seconds, it automatically turns off to save the power.
Things we love :
Small and ergonomic design.
Different reading settings. You can select from PSI,Bar, Kgf/cm² or KPA mode.
LCD display. The reading is clear and visible even in dark.
Lighted nozzle. Automatically shut off to save the battery.
Craftsman Programmable Digital Tire Gauge :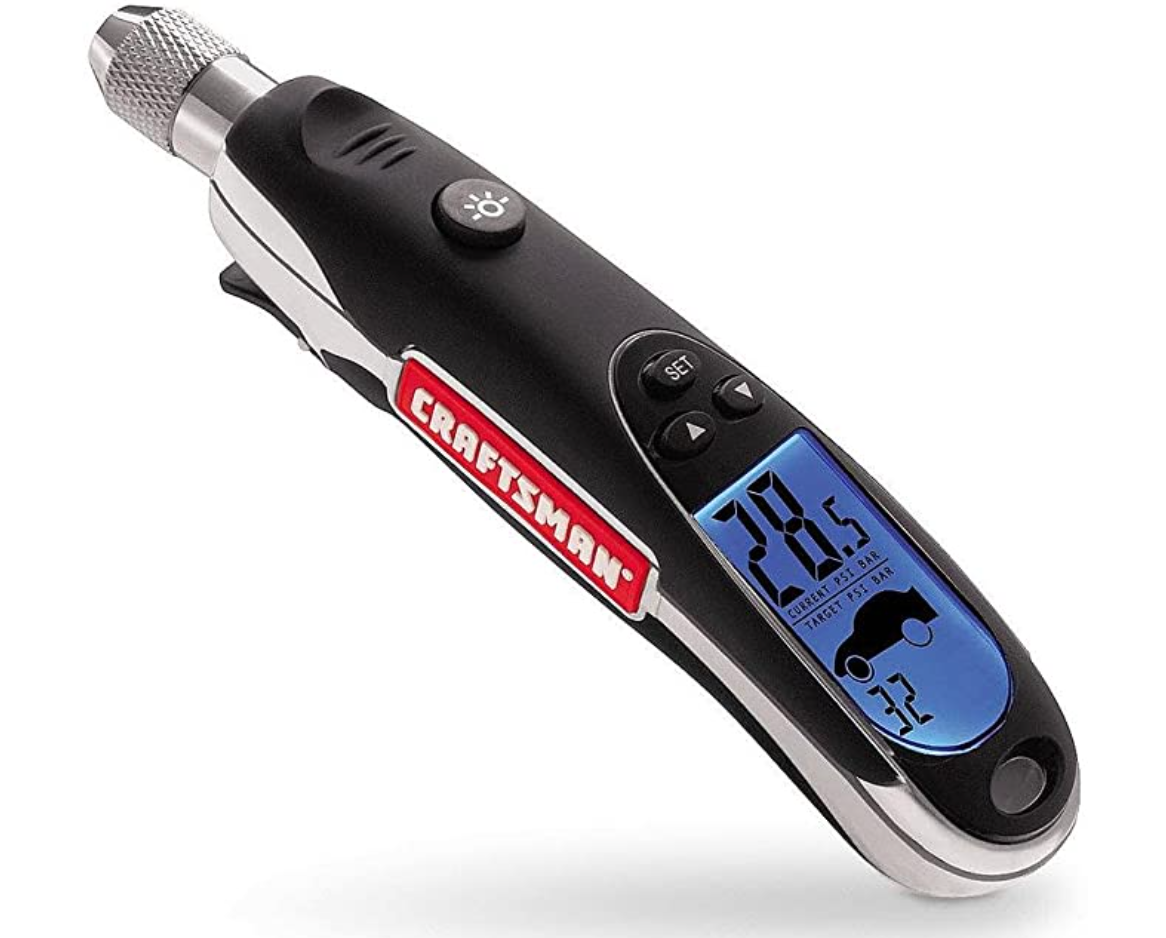 Craftman programmable digital tire gauge has one ergonomic designed handle and straight push nozzle for easy use. It is easy to fit the end and read the measurement. It will beep to notify if the reading is locked. So, you don't need to keep checking the device. Craftsman tire gauge is a programmable device.
Means, you can set different reading standard for different types of tires or for different vehicles. If your front tire is different than the back tire, you can easily configure this on this device. The LCD is large enough to show the reading clearly even in dark. It also comes with one white LED flash light that helps to illuminate the area .
Overall, the size of the craftsman digital tire gauge is little bit large but it fits conveniently in the palm of your hand. Operating pressure range is from 5 to 99 PSI.
Things we love :
Easy to use straight push nozzle.
Programmable settings. You can set different reading settings for different tires.
Durable and metal construction.
You can also use it as a LED flashlight.
EXELAIR by Milton (EX999008) 8-in-1 Digital Tire Gauge :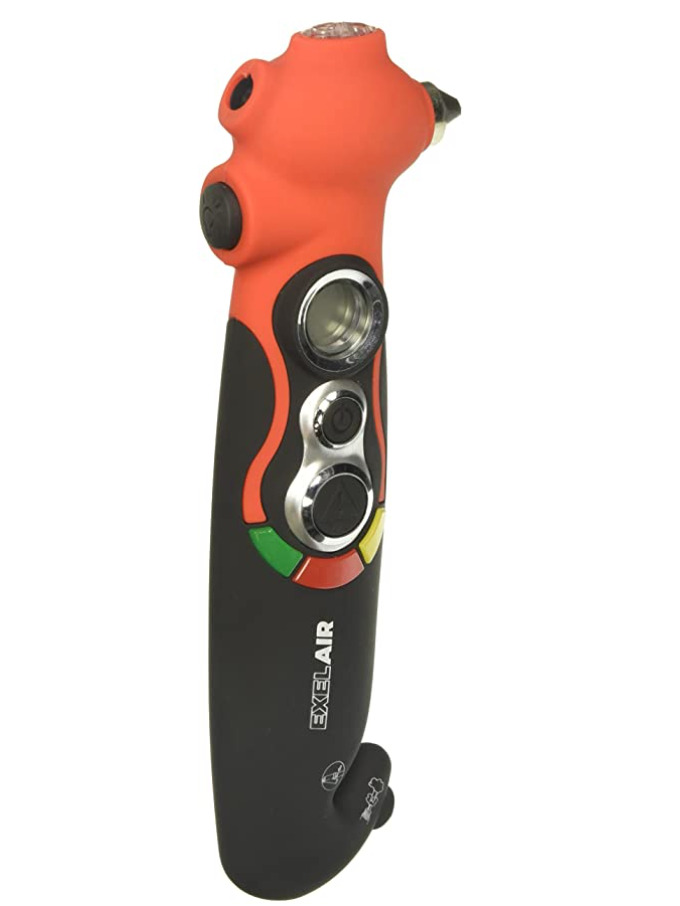 EXELAIR by Milton(EX999008) is a 8 in 1 digital tire gauge. It features 8 different safety tools including one seatbelt cutter, one hammer to break glass. It also comes with one LED flashlight and one LED warning red light. Two small magnets are on back to attach it on the side of the vehicle.
If you want to alert other peoples, turn on the red LED and attach it outside your car. 2 AAA batteries are required to operate (included with the package). It's auto shut off functionality can turn off automatically after 30 seconds of inactivity.
Two more important features are tire thread depth gauge and tire deflater. The tire thread depth gauge can detect how safe the tire thread level is.It has three indicator lights green,red and yellow to show this safety level.The tire deflater is also useful to adjust the pressure.It can measure the reading in Bar and PSI (5 to 100).
Things we love :
8 different safety tools.
Auto turn off timer.
Tire thread depth gauge and tire deflater.
Two small magnets are on back. Check Price on Amazon