Best glass top computer desk with keyboard tray in 2020
Best glass top computer desk with keyboard tray in 2020:
Glass computer desks have many more advantages than traditional wooden desks. These are easy to carry and available at very reasonable price. And most importantly, you don't have to go to a furniture shop to get one of these. Just spend a couple of minutes browsing and order online.
To make your life easier, we are listing here top 7 best glass computer desk with and without keyboard tray available currently in the market. Go through the list and drop a comment below if you find it useful :
7. Walker Edison Modern Metal and Glass Laptop Computer Writing Gaming Gamer Command Center Desk :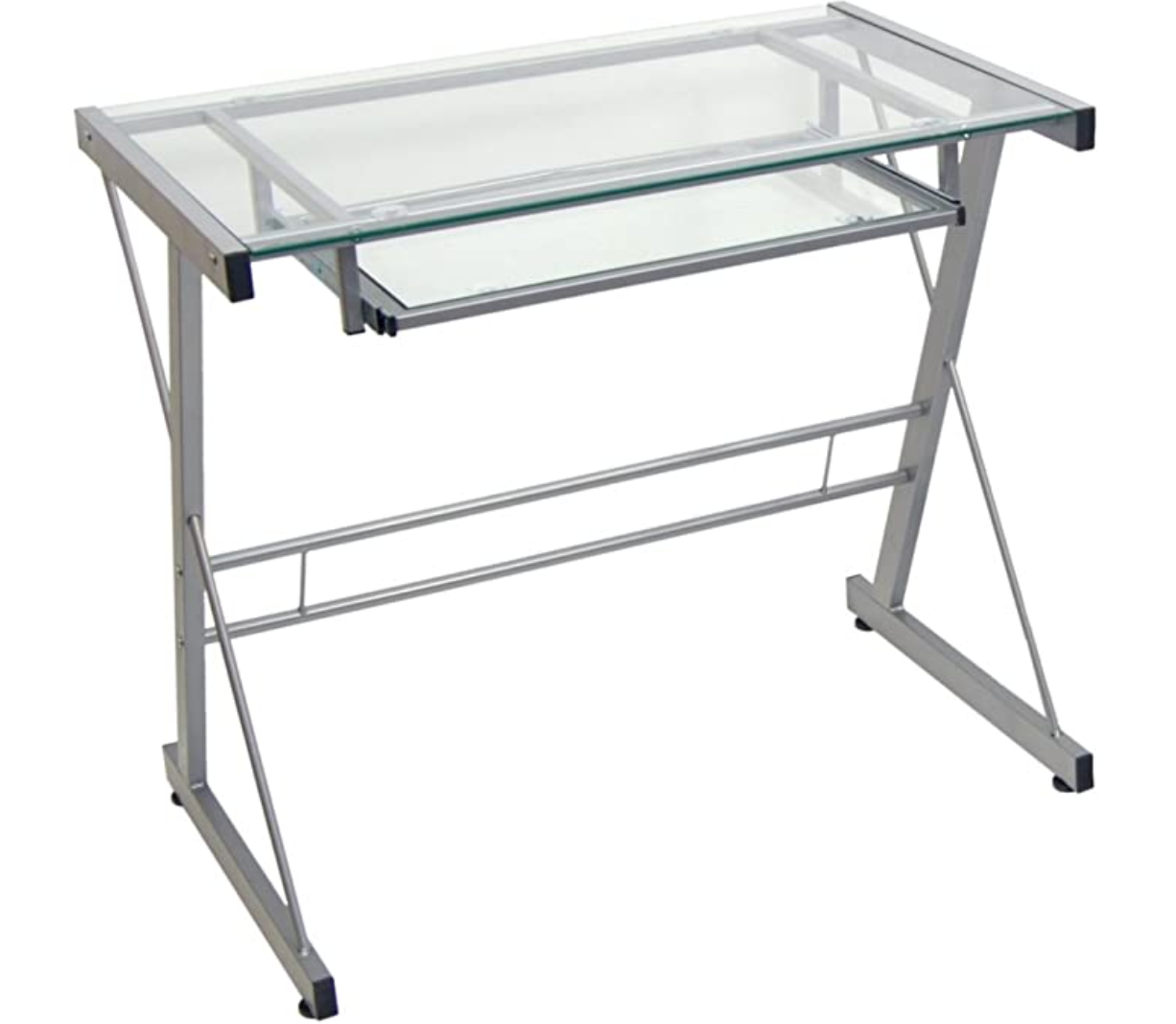 This computer desk is perfect for your home or office. It has a sleek design that takes only a little space. The body is crafted from steel and the glass is tempered safety. It also comes with a computer keyboard tray that makes it easy for you to place an external keyboard and a mouse, if you like to use. Both keyboard tray and the main table is glass top.
Exact size is 31 inches width, 20 inches depth, 29 inches height. The adaptive design and decor makes it fit on any place with limited space.
Reasons to buy it :
steel and tempered safety glass
Keyboard tray
20 x 30 x 29 inches
6. Techni Mobili Contempo Glass Top Computer Desk with Pull Out Keyboard Panel :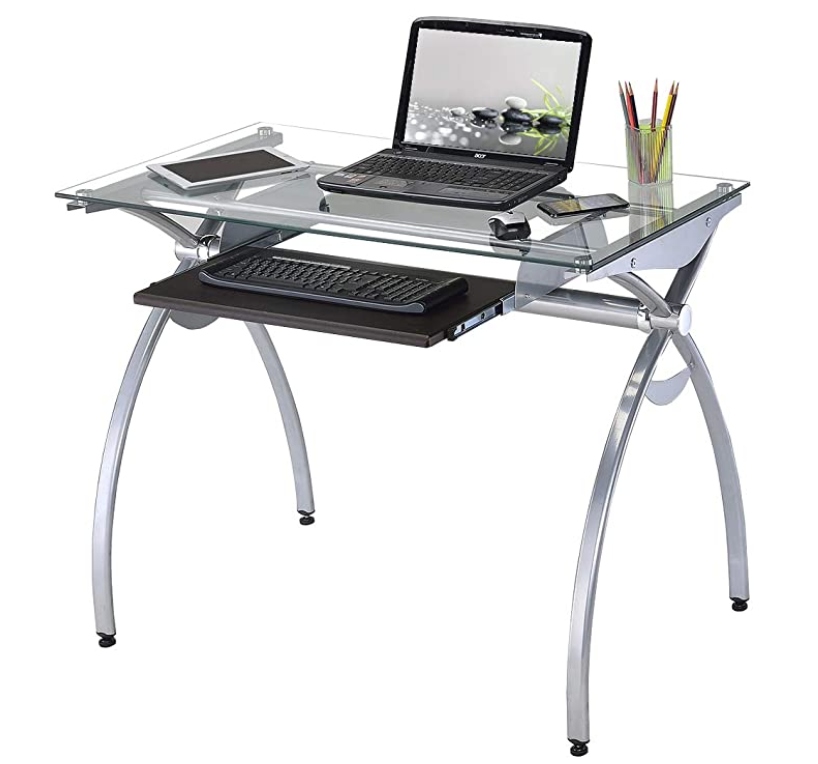 This is another glass top computer desk with a pull out keyboard tray. It is not heavy and the sturdy build makes it a long lasting product. The keyboard tray is wooden, Mahogany finish, that adds more beauty to this little table. 8mm top table glass is tempered safety and scratch-resistant. The keyboard shelf is 33lbs capacity and table is of 110 lbs capacity. Its fashionable design and sturdy build makes it one of the best glass computer desk to buy.
Reasons to buy it :
Sturdy build
Wooden keyboard tray
22.5 x 43.2 x 29.5 inches
5. Mecor Glass Computer Desk Laptop Table Metal X-Frame Corner Workstation with Keyboard Tray :
Mecor Glass computer desk laptop table is a multi-purpose laptop table with three extra shelves. You can use these shelves to store books or any laptop accessories like headphone, soundbox etc. It also provides one more extra shelf at bottom right corner that can be used to store CPU or power backup if you want to use it for desktop tables.
7mm thick tempered glass makes this item extra strong, can hold even a heavy weight desktop. The steel frame is black powder coated finish. The size of the keyboard tray is 24"*12", it is slide out and comes with a safety stop. All parts of this table are assembled. Overall size of the main table is 37.2"X 18.0"X 26.4".
Reasons to buy it :
Extra shelves
Keyboard tray and bottom shelve for CPU/UPS
Tempered proof glass
4. Best Office Toughened Glass L Shaped Corner Writing Study Keyboard CPU Stand :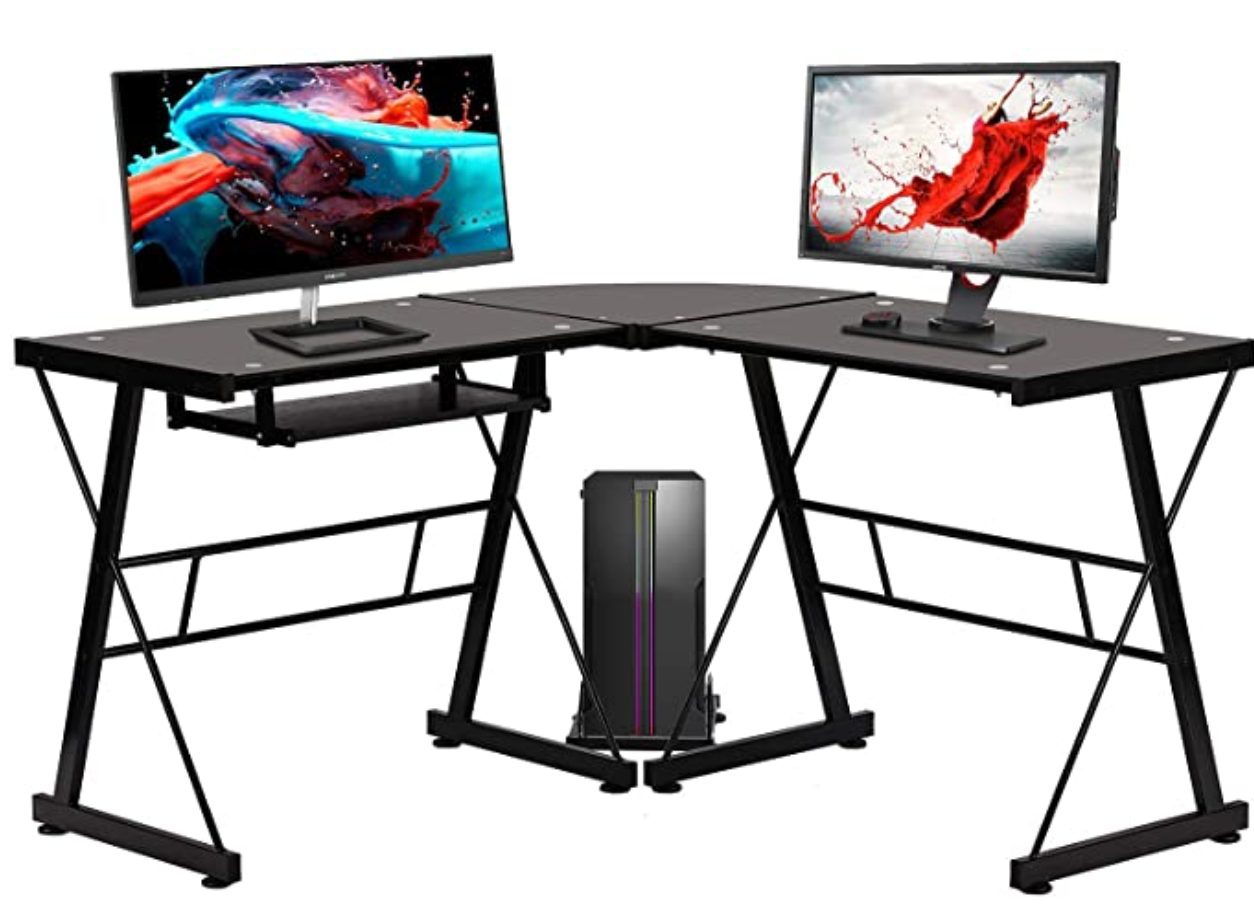 If you are looking forward to buy a computer desk to place in the corner of a room, then this desk is just for you. This L shaped desk is beautiful and it provides a lot of space for your computer, books and other accessories. With an adjustable leg pad and steel frame body, this table is capable of holding multiple extra monitors.
It also has one steel CPU stand and sliding out keyboard tray. Perfect for a home office setup. All parts of the table are assembled, that makes it easy to relocate.
Reasons to buy it :
L shaped design
CPU stand and keyboard tray
Assembled table Check Price on Amazon
3. Phoenix Home Arezzo Rolling Computer Table with Glass Top and Keyboard Tray :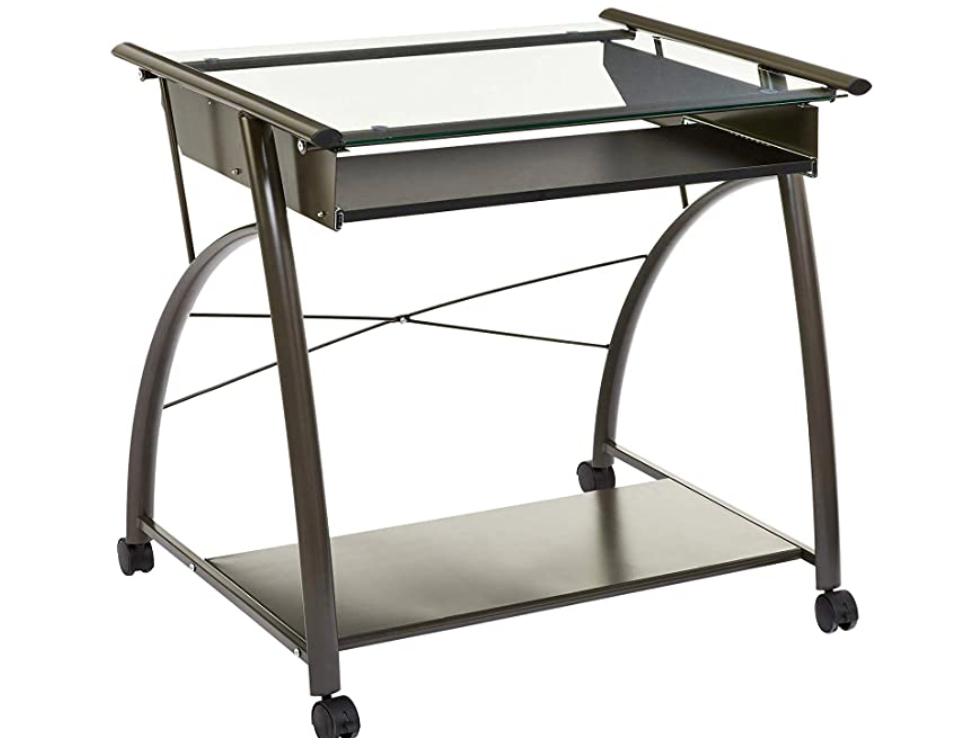 This is a small, smartly designed computer table perfect for laptop or heavy desktops. It has one CPU shelf and keyboard tray. The keyboard tray is big enough to hold a keyboard with a mouse. The glass of the table is 5mm thick, tempered, strong enough to hold any kind of laptop or desktop. It provides one bottom shelf to store CPU, UPS, books or any other accessories.
This table comes with wheels at the bottom for easy transportation. The whole system is assembled. You can assemble/reassemble easily with the help of the provided instruction guide. Measures 32 * 24 * 30 inches and weighs around 36 pounds.
Reasons to buy it :
Small sized table with a keyboard tray and bottom shelf
Bottom wheels
Assembled design Check Price on Amazon
2. FurnitureR glass top square table :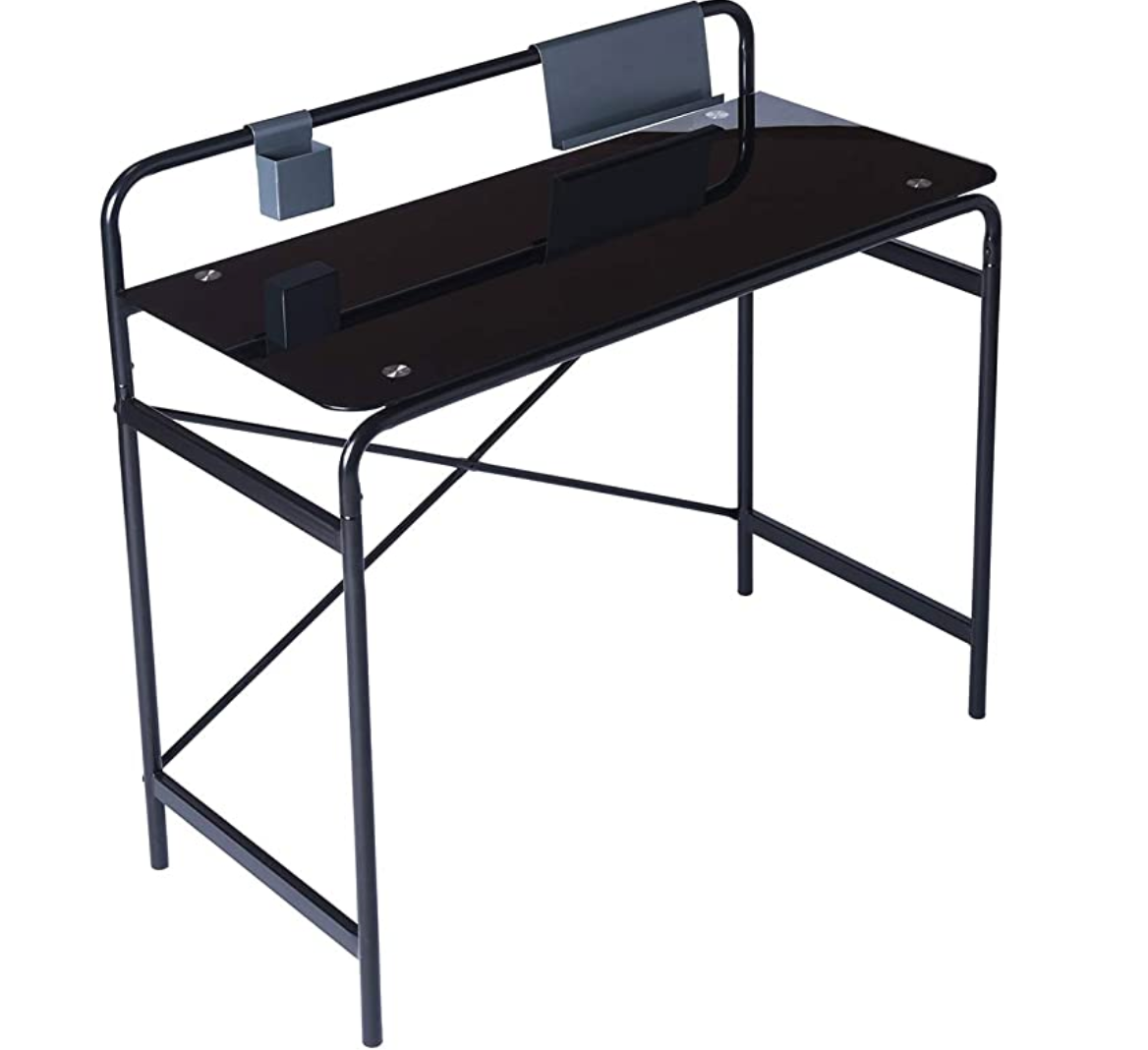 This table is not designed only for computers, you can also use it as a writing desk. You can use it as a computer desk (best for laptop desk), office desk, meeting desk, reading desk or writing desk. The metallic frame of the table makes it solid and strong.
It also has one pen holder and one book/tablet/mobile support. It doesn't have other features like keyboard tray or cpu holder, but if you are looking for a nice looking small multipurpose glass top table, then you can go for it. It's size is 100 * *45 ** 89cm or 39.37 * 17.7 * 35 inches.
Reasons to buy it :
Small sized table .
Multipurpose
Pen holder and tablet holder Check Price on Amazon
1. Flash Furniture Glass Computer Desk with Pull-Out Keyboard Tray and Crisscross Frame :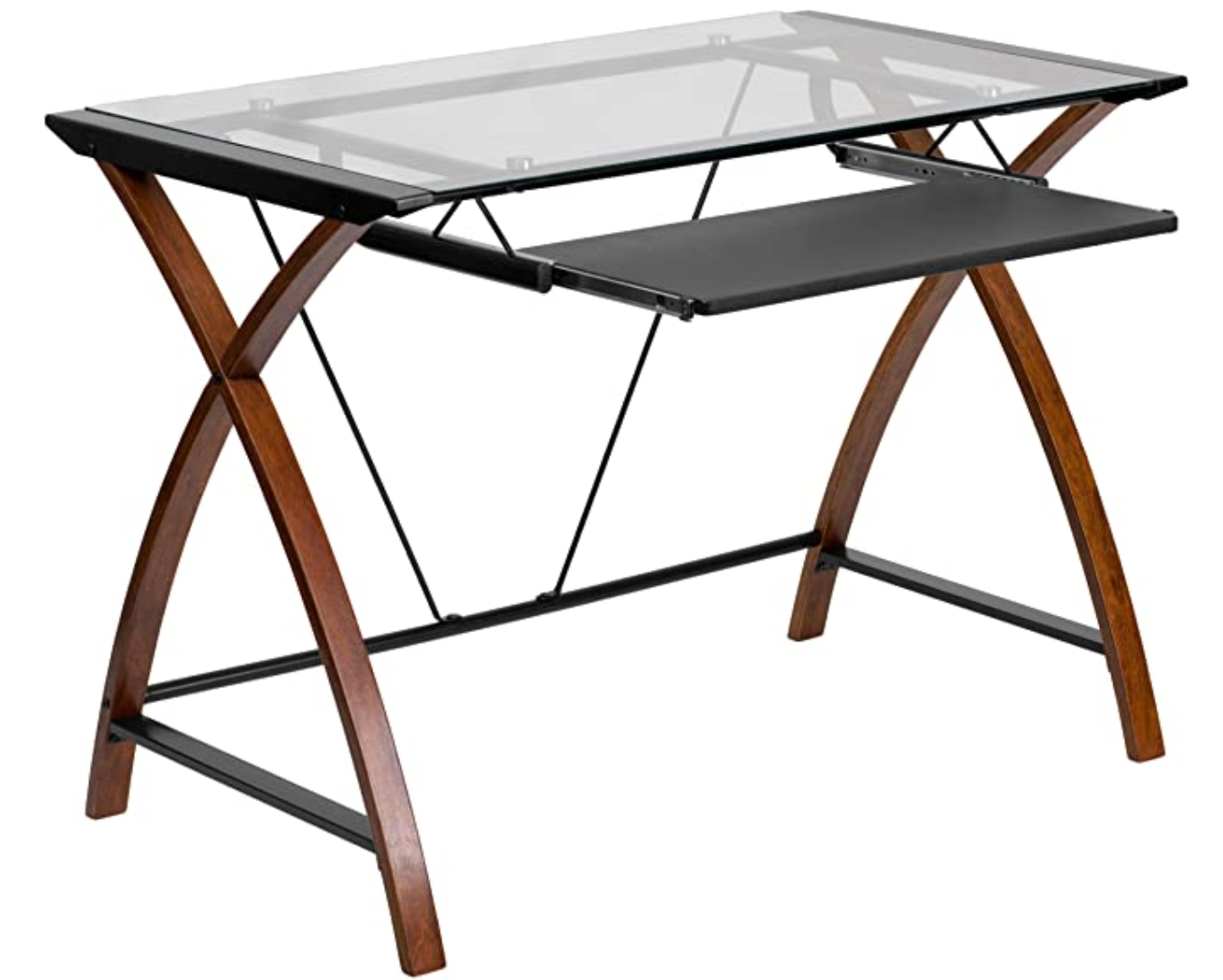 Add more beauty to your office room with this glass computer desk. The top of the table is is 5mm thicker clear tempered glass with a plenty of rooms for your computer and other accessories. With stylish cherry crisscross legs, It is perfect for wooden theme rooms.
The powder coated finish makes it scratch resistant and floor glides are best for sliding the table smoothly when you want to move it without damaging the floor. It also comes with a black sliding keyboard tray, spacious for a keyboard and a mouse. The sliding keyboard is 23.5 * 11.75 * 25.75 inches and the table is 39.25 * 23.5 * 29 inches .
Reasons to buy it :
Sturdy build
scratch resistant, floor glides, thick tempered glass
keyboard tray Check Price on Amazon