Best digital clock with calendar and alarm in 2020
Introduction :
Calendar clocks or clocks with day and time are digital clocks with a large display that shows both time ,day and all other information. These clocks are mainly designed for people dealing with memory loss.
People suffering from Alzheimer's, Dementia or head injuries may find problem distinguish between days of week and time of the day. Even, few people leave the house at mid night. Calendar clocks are great aids for individuals suffering from these types of problems.
In this post, we are reviewing 10 different types of calendar clocks. Most of these clocks are comes with a screen size greater than 7 inch in size. So, the display will be visible from any part of a room. All have large letters and bright display. Many of them also comes with different features like setting alarm, photo slider etc. Go through the list and select the one that you find best for your loved one.
Our Best choice :
It is not an easy task to find out the best one. We have reviewed top 10 calendar clock below, but our favorite one is Raynic Digital clock. The main reason that we placed it on top is its display size and quality. 11.5 inch display is more than large for a clock. The design is purely black with bright white text on top.
Again, it's different display brightness and different types of alarm mode are useful and unique feature than the other clocks. If you cannot come to a conclusion, we would suggest you to go for this one.
Top 10 Calendar clock list :
10.HeQiao Digital Wall Clock, 12 Inch Brushed Aluminum Decorative Desk Clock Silent Battery Operated Large LCD Alarm Clock :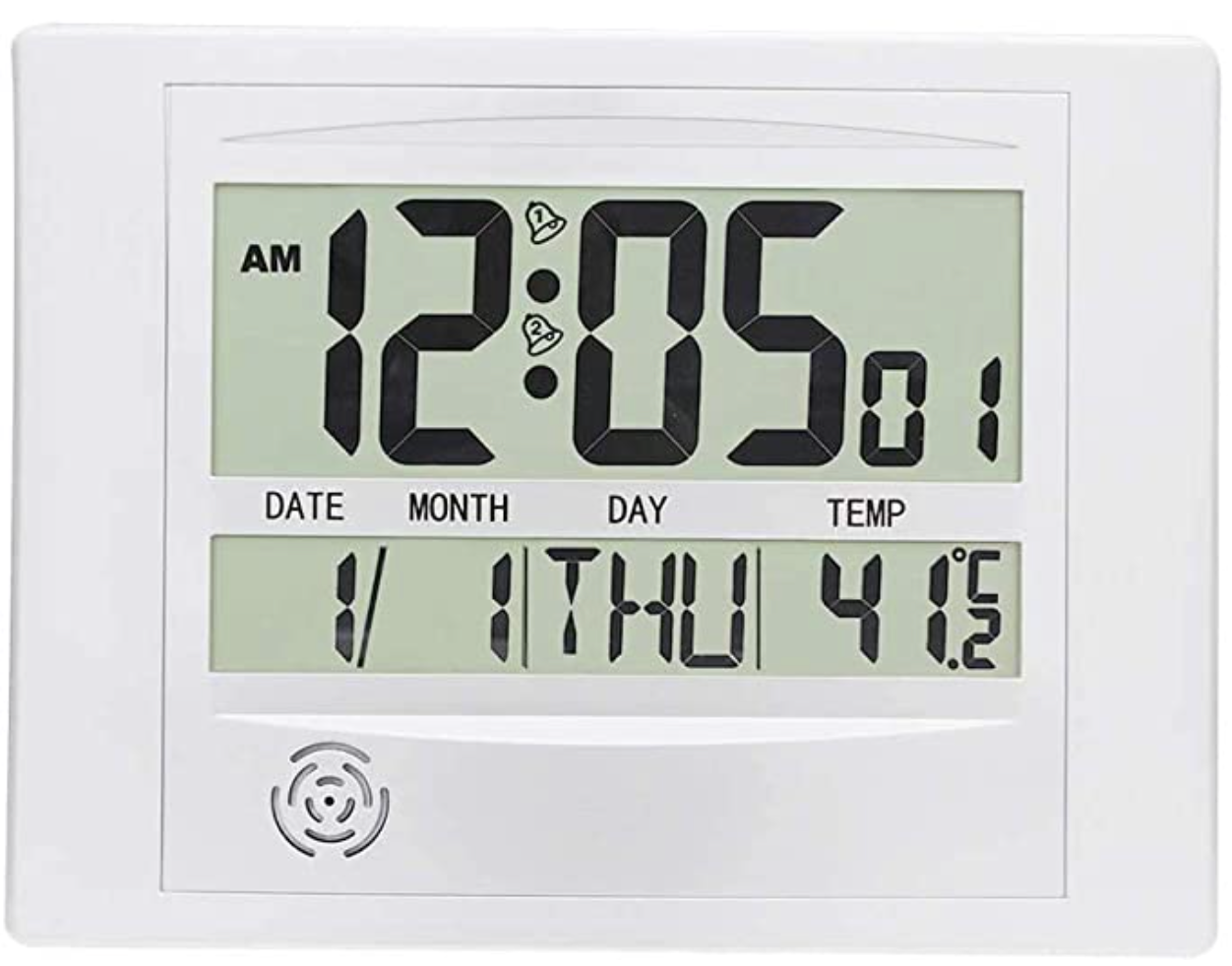 HeQiao Digital clock is of size 25cm x 19cm . It is a battery operated clock and mainly designed to use as a wall clock. It also comes with a back stand that can be used to use it as desk clock. 2 AAA sized battery is required (batteries are not included with the package). You can set the time setting to 12 or 24 hours format. Apart from time, it can also display date, month, day and current temperature. The temperature format can be changed between Fahrenheit and celsius.
The numbers can be read easily from the across of a room and its thin body looks great on a wall. You can also configure alarms in the clock. The alarm supports snoozing.
Features :
Wall or desk clock.
Battery operated.
Displays temperature, time, date , month and day.
12/24 hour format. Celsius/Fahrenheit format for the temperature.
9. La Crosse Technology 513-1419-INT Atomic Full Calendar Clock with Extra Large Digits :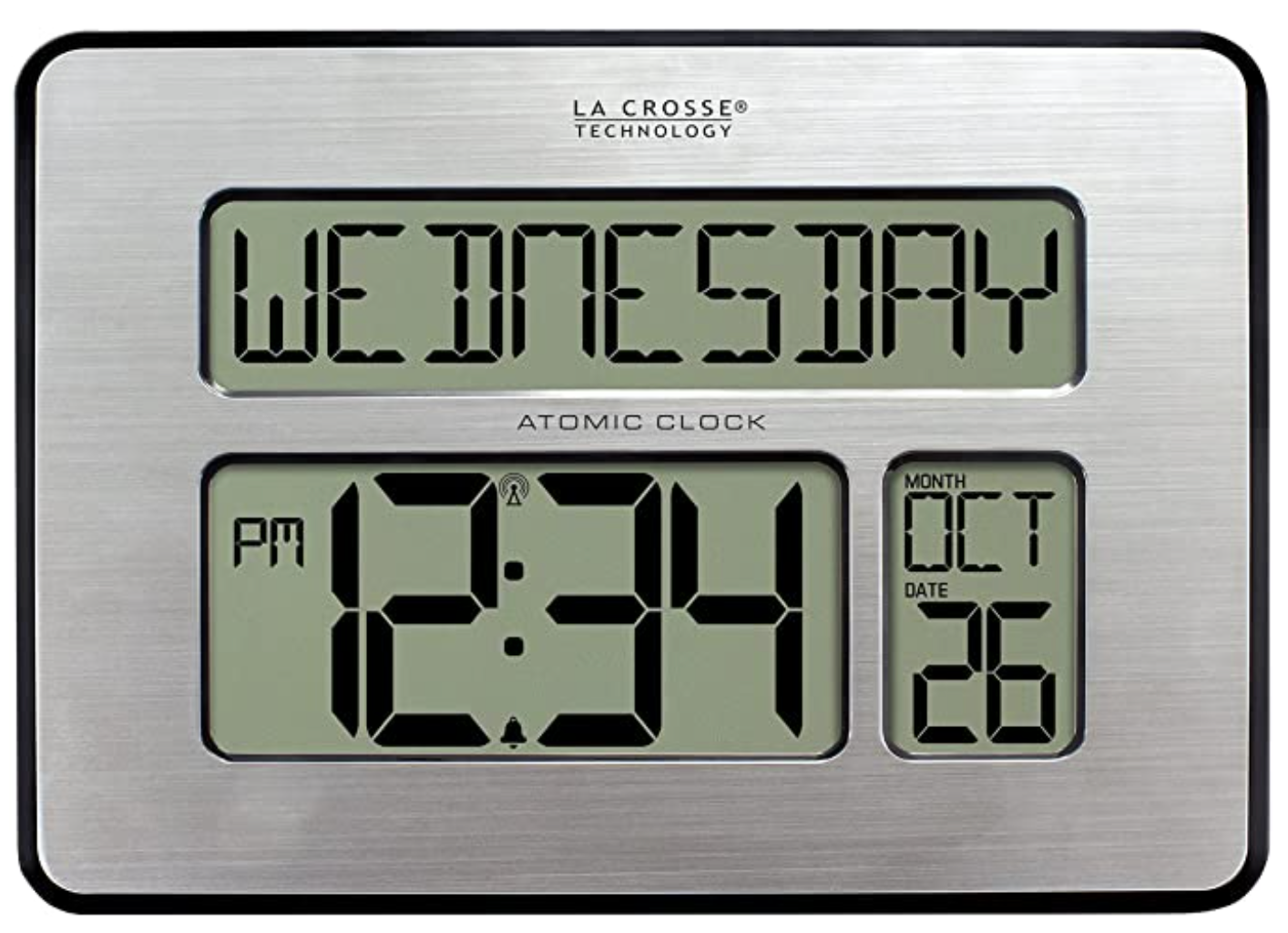 This brushed silver finished clock designed by La Crosse Technology is best for elder peoples. It has three display LCD screens : one for time, one for current day and last one is for Month and date or for temperature.
The time digits are of size 2 1/2 inches and the weekdays letters are 1 inch in height. You can change the time between 12 or 24 hours format. The full day of week can be displayed in English or Spanish. It is equipped with a backlight to display at night.
It can also show you the current room temperature in Fahrenheit or Celsius. It is a self setting clock, i.e. it can adjust the time according to any of the 7 US time zone. It uses WWVB radio signal for synchronization and automatically adjusts the daytime settings. 2 AA alkaline batteries are required to operate and if battery is low , it can show you the low battery info. The batteries are not included with the package.
Features :
Date, current day , month, date and temperature display.
Fahrenheit or Celsius mode.
2 AA batteries are required. Low battery indicator.
Automatically adjusts the time. Backlight for night mode. Check Price on Amazon
8.DayClox Memory Loss Digital Calendar 5-Cycle Clock :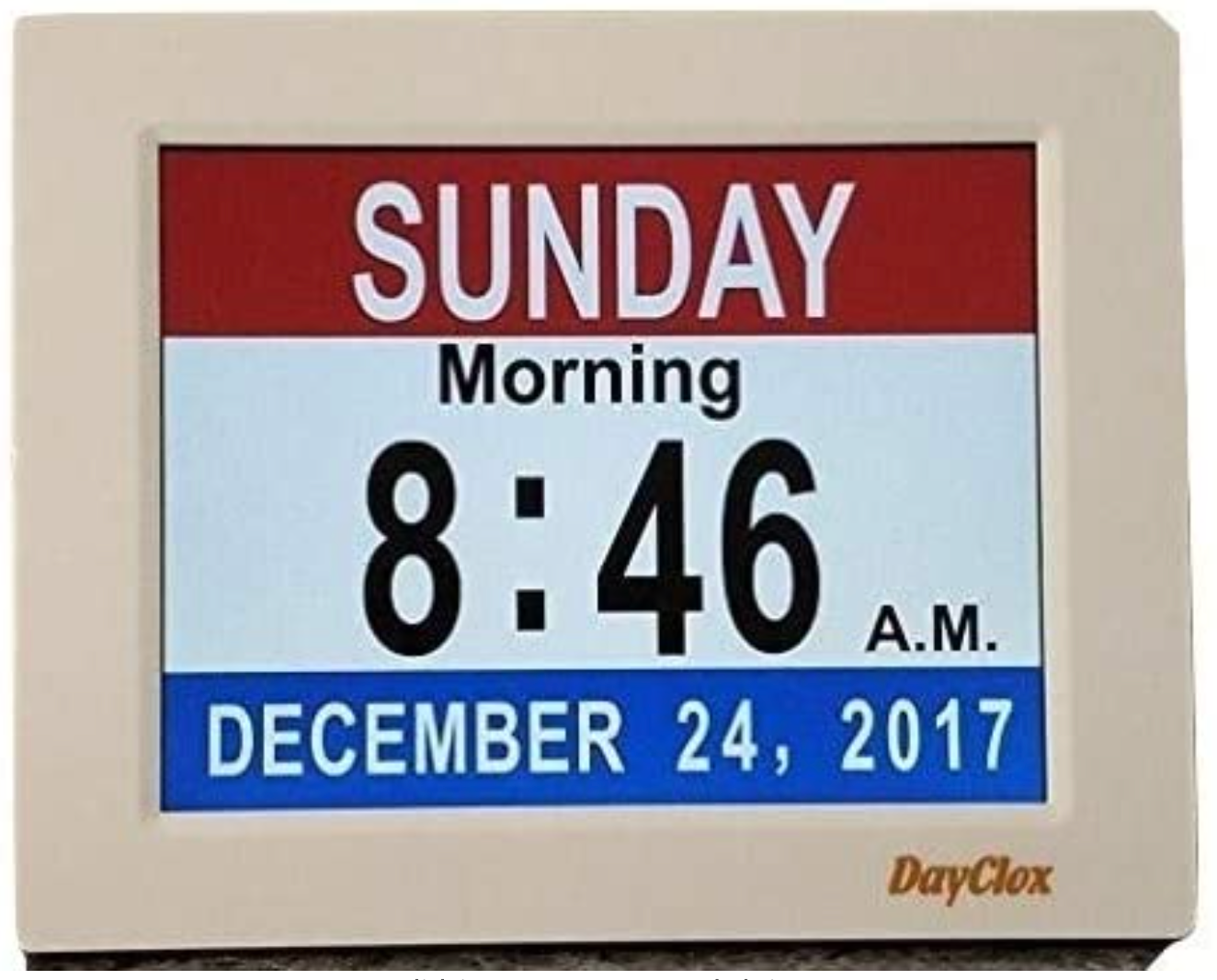 DayClox Digital clock has two different display options. You can either select black and white display or red/white/blue display. red/white/blue display will turn the day background to red, time background to white and month/year background to blue. The main advantage of three color is to help differentiate the parts of the screen.
Above the time, it also display the timing cycle in word : Morning, Afternoon, Evening, Night and Before Dawn. The day of the week and month is displayed in full. It can automatically dim down the display to half of the brightness. It dims down every night at 9 pm and reverts back at 6 am.
This is not a battery powered clock. One AC adapter is included with the package. In case of any disconnection, you don't need to setup the time settings again. It automatically saves the current time internally and restored it when you plug back it.
Features :
Two different types of display.
Shows the time cycle in words.
Automatically dim down the display at night.
Automatically restores the time. Check Price on Amazon
7. 7.5" Large LED Digital Alarm Clock with USB Port for Phone Charger :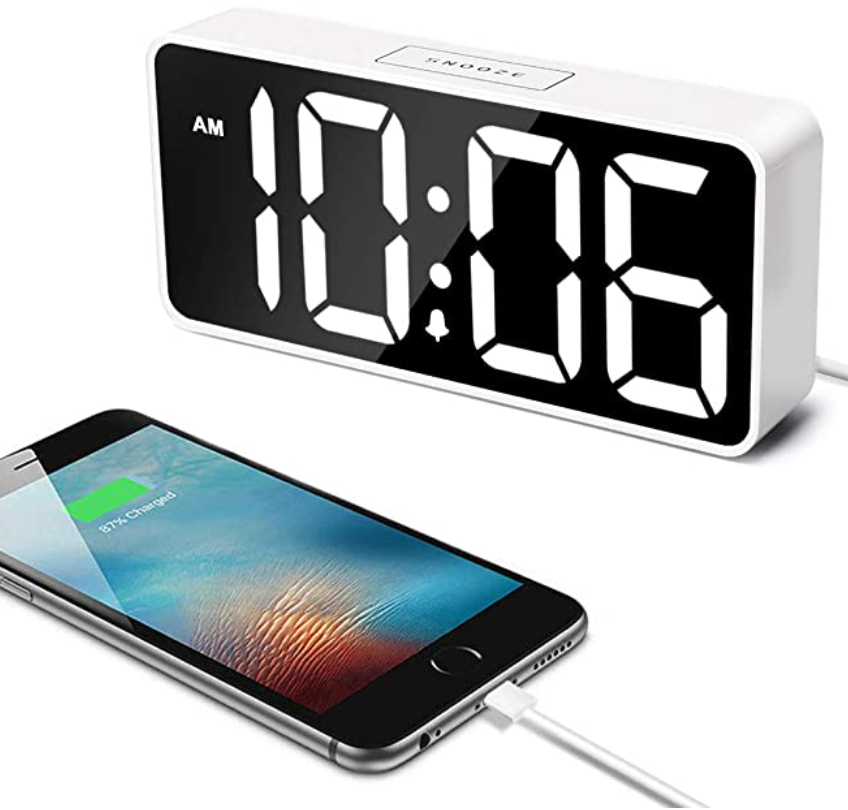 This 7.5 inch large LED clock displays the time in big white bold minimal design numbers. One small touch pad is on top of the clock to set different settings. Like touch it for 3 seconds to change the brightness or touch slightly to activate snooze. Snooze runs the alarm after each 10 minutes. The time can be set for 12 or 24 hour format. The alarm sound can be changed to low, high or gradually ascending mode. It comes with one USB charger. Mainly it runs on AC current, but one battery backup is available to memorize all settings in case of any power failure. It also has one USB port to connect any other phone for charging.
Features :
7.5 inch large LED display.
Touch control on top for changing the brightness and snooze.
12 or 24 hour time format. Battery backup to save all settings in case of power failure.
USB port to connect any other phone for charging.
6. INNOCLOCK calendar day digital clock - Ideal for Memory Loss, Impaired Vision and Seniors :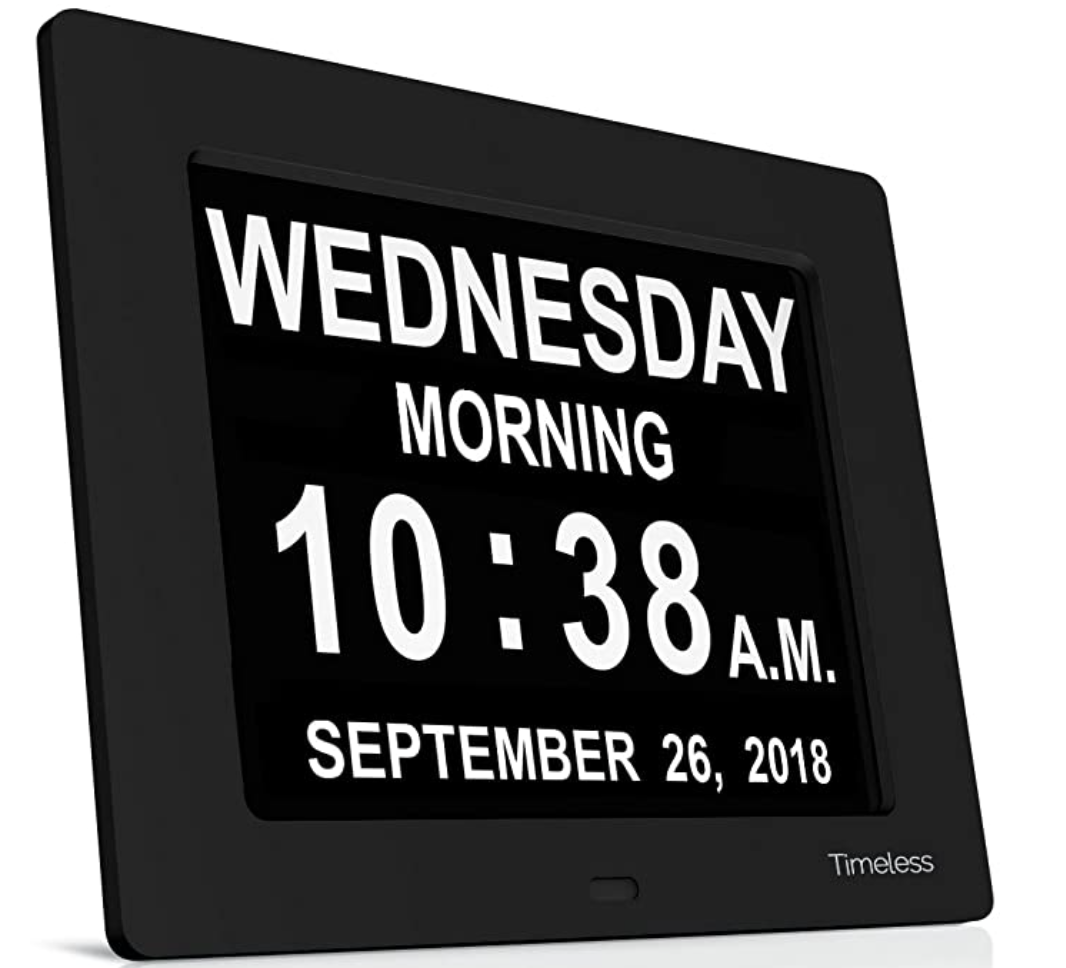 INNOCLOCK from Timeless features a 8 inch digital display. With a black background and bold white fonts, the text of the clock is clearly visible at any angle . The time and date format is customizable and it is available in 5 different language : English, Spanish, French, German and Italian. This clock is mainly designed for elderly peoples but it is equally useful for any other uses. You can use it at your home, at school or it is a wonderful gift on any occasion. One more nice feature is that it can be configured to display only the important date-time information like "Now it's Friday Evening". It supports 3 alarm settings. One more important feature is the auto nighttime dimmer that can dim the display automatically at night. You can use it as a wall clock or as a desk clock. It has one pull out stand that can be used to place it on a flat surface. Note that it is not a battery powered clock. You will get one adapter with the package.
Features :
Available in 5 different language : English, Spanish, French, German and Italian
Innovative day-time display like "Now it's Wednesday Morning"
Display the day, time, date and time in word like MORNING.
Auto nighttime dimmer.
5. American Lifetime [Newest Version] Day Clock - Extra Large :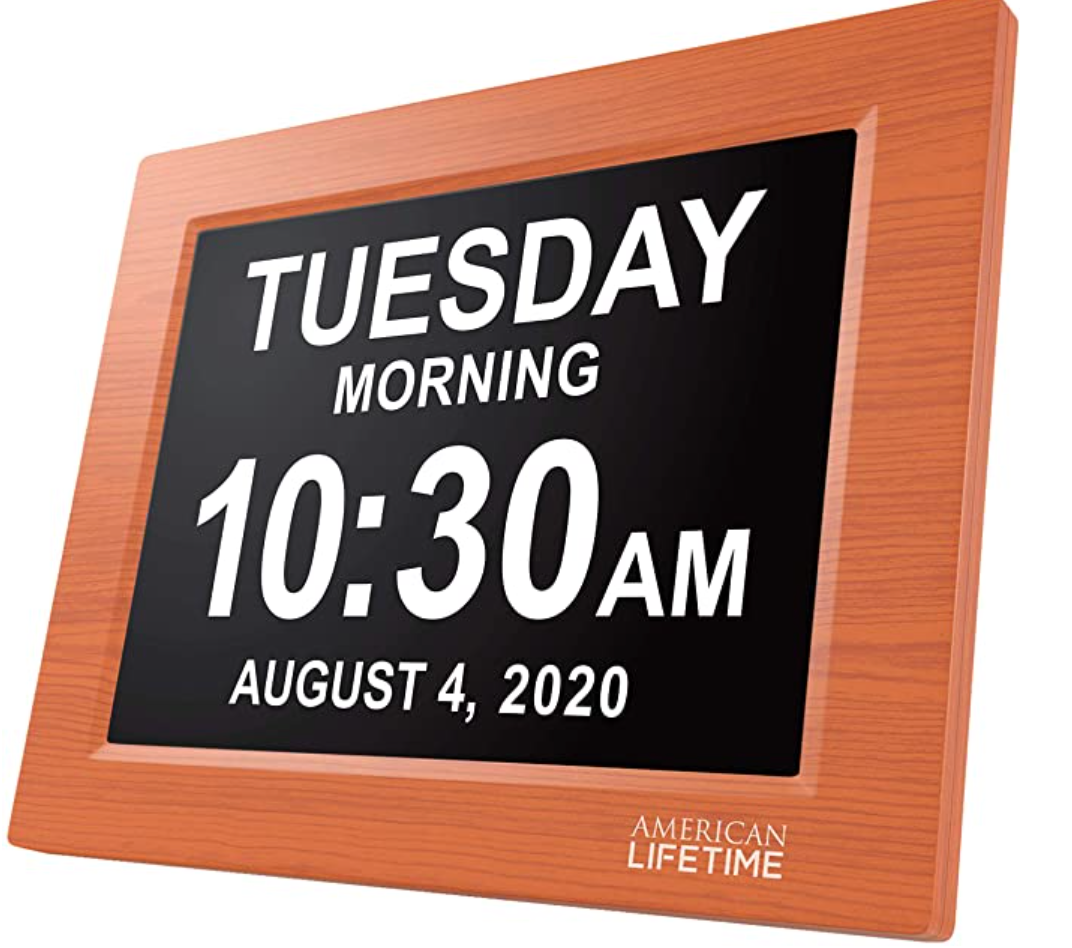 American lifetime features a bright 8 inch digital screen. This non glare screen is visible perfectly from all angles . The white bold letters on the black display can be seen up to 20 feet of distance. The font color can be changed between white and yellow. It can display the time in word format like "MORNING" or "EVENING".
The time can be set in European or 24 hour format. Day, time, year, everything is displayed on the screen. Optionally, you can set the display to show only the important information in readable format like "NOW IT'S MONDAY MORNING". Auto dimming mode can dim the display automatically at night.
You can set 5 different alarms with different text message for each alarm. It comes with 7 different languages. It is a AC powered alarm clock. On power failure, it can remember the current day/time and retain it on power return.
Features :
Clear 8 inch display.
White or yellow color for the text.
The time can be set for 24 hour or European format. You can also set the display to show only the minimal information.
Comes in 7 different languages.
4. SVINZ 8" Digital Calendar Alarm Day Clock with 3 Alarm Options, Extra Large Non-Abbreviated Day & Month :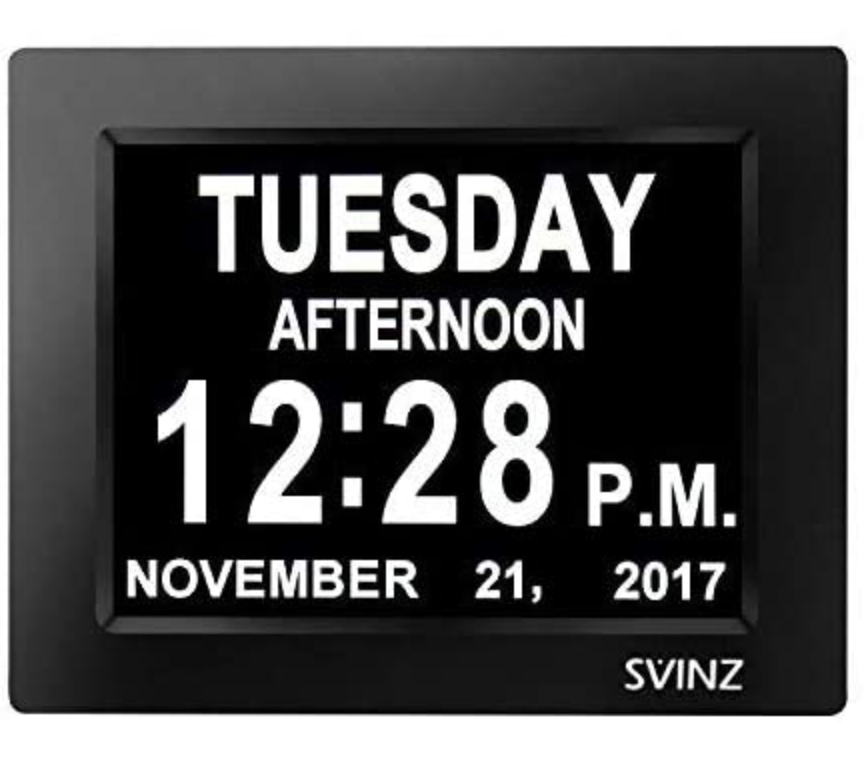 SVINZ Digital Calendar clock comes with a large 8 inch digital display . It has two different color option for the display : white and yellow. The character height is 1/2 inch for date, 1-1/2 inch for time, and 1 inch for the day. One cool feature of this clock is that it displays the time in word e.g. 5:00 am to 11:59 am as MORNING, 12:00 pm to 4:59 pm AFTERNOON, 5:00 pm to 8:59 pm EVENING,9:00 pm to 11:59 pm NIGHT,and 12:00 am to 4:59 am PREDAWN. You can set three alarms at different time of the day, which is helpful for elderly people to remind about meal or medication time. It comes with a power adapter to keep connected to electricity. It also has internal battery cell , that provides backup if main power is not available. Even if the battery dies, it can reset to the actual time. One more important feature is its auto dimming function. This is an optional feature and you can use it to dim the display at night automatically to save the power. Auto dimming is enabled from 7 pm to 7 am. The time can be changed for 12 or 24 hours and date can be changed for DD/MM/YYYY or MM/DD/YYYY format.
Features :
8 inch display, white or yellow colored display.
You can set three different alarms in a day.
It displays the time in word like MORNING, EVENING, AFTERNOON etc.
Auto dimming function to dim the display at night automatically.
3. Digital Photo Frame 10 inch Digital Picture Frame with HD IPS Display :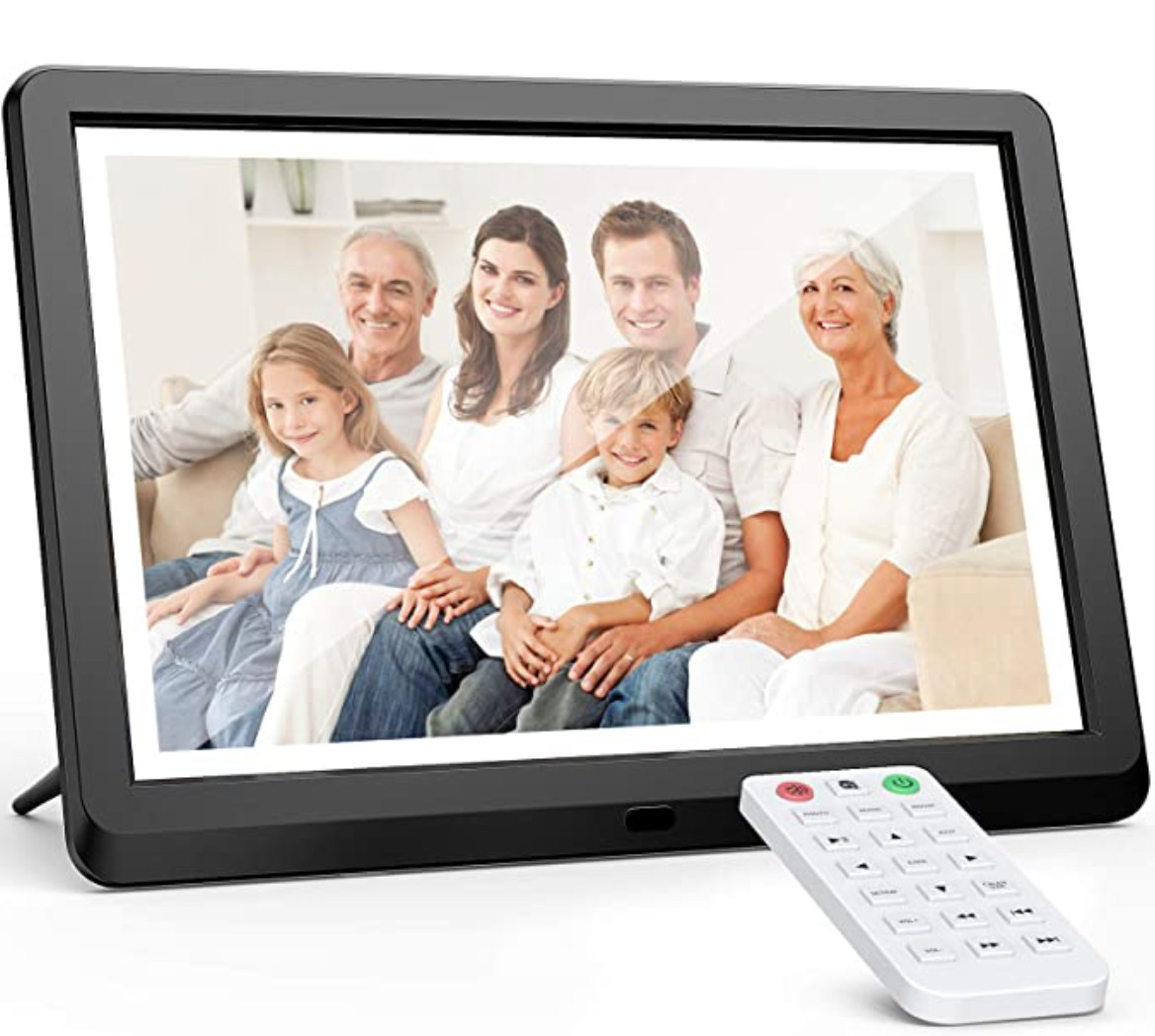 TOPELOTEK digital clock is not only a clock, it can be used as a video player, music player or even as a digital photo frame. And the best part is that it comes with one little remote control. It is very easy to operate. No need to setup anything. On the side, it has slots for USB and SD card. Put your pictures, videos and music in a USB drive , connect it and the videos an pictures will start playing immediately. You can adjust the speed of the slideshow and set different transition. Alternatively, play photo slideshow and start one music on the back. It even come with one headphone port on side. USB port is also available to connect a phone for charging. The 1280*800, 10 inch IPS display can show day ,time and date in clear bold letters. Set the alarm, change the volume or change the display brightness using the remote.It doesn't run on battery. You will get one AC adapter with the package.
Features :
10.1 inch , 1280*800 inch IPS display.
It comes with one remote control to operate.
USB cable port, SD card slot and USB drive slot on side.
You can use it as a photo frame, music player or video player.
2. iGuerburn Talking Day Clock 8" Large Display with Touchscreen :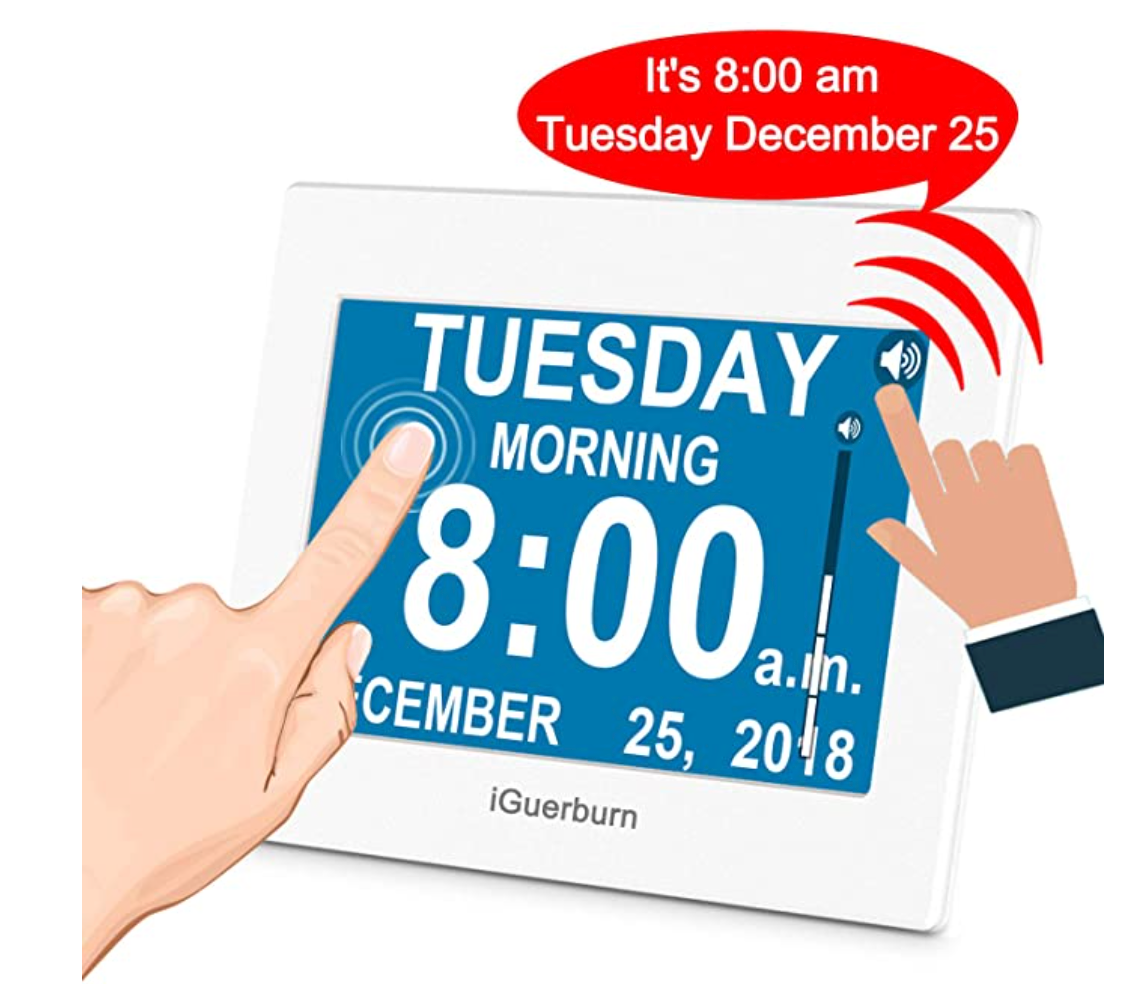 iGuerburn talking clock comes with a vibrant 8 inch touch screen display . This is a talking clock, i.e. it can speak out the date , day and time (available in 6 different languages ). The voice sound is adjustable. It displays the time in words i.e. Morning, Afternoon, Evening and Night. You can configure the time level for each one. The display brightness is adjustable and the background color can be changed between four predefined colors : white, blue, red and black. Similarly, you can choose any color for the fonts. The time is adjustable between 12 hours or 24 hours format. You can set 8 different alarms throughout the day. You can even use it as a digital photo frame. Put your photos inside a USB drive or SD card, connect it using the sd-card/usb slot and it will automatically start sliding through them.
Features :
Talking clock with 8 inch touch screen display.
6 different language is available for display and voice.
It can show the time in words. This feature is optional and you can change the interval for each time.
Four predefined colors for the display background and text. Not only that, you can even use it as a digital photo frame.
1. Raynic 11.5" Digital LED Dimmable Calendar Alarm Day Clock (Editor's Choice):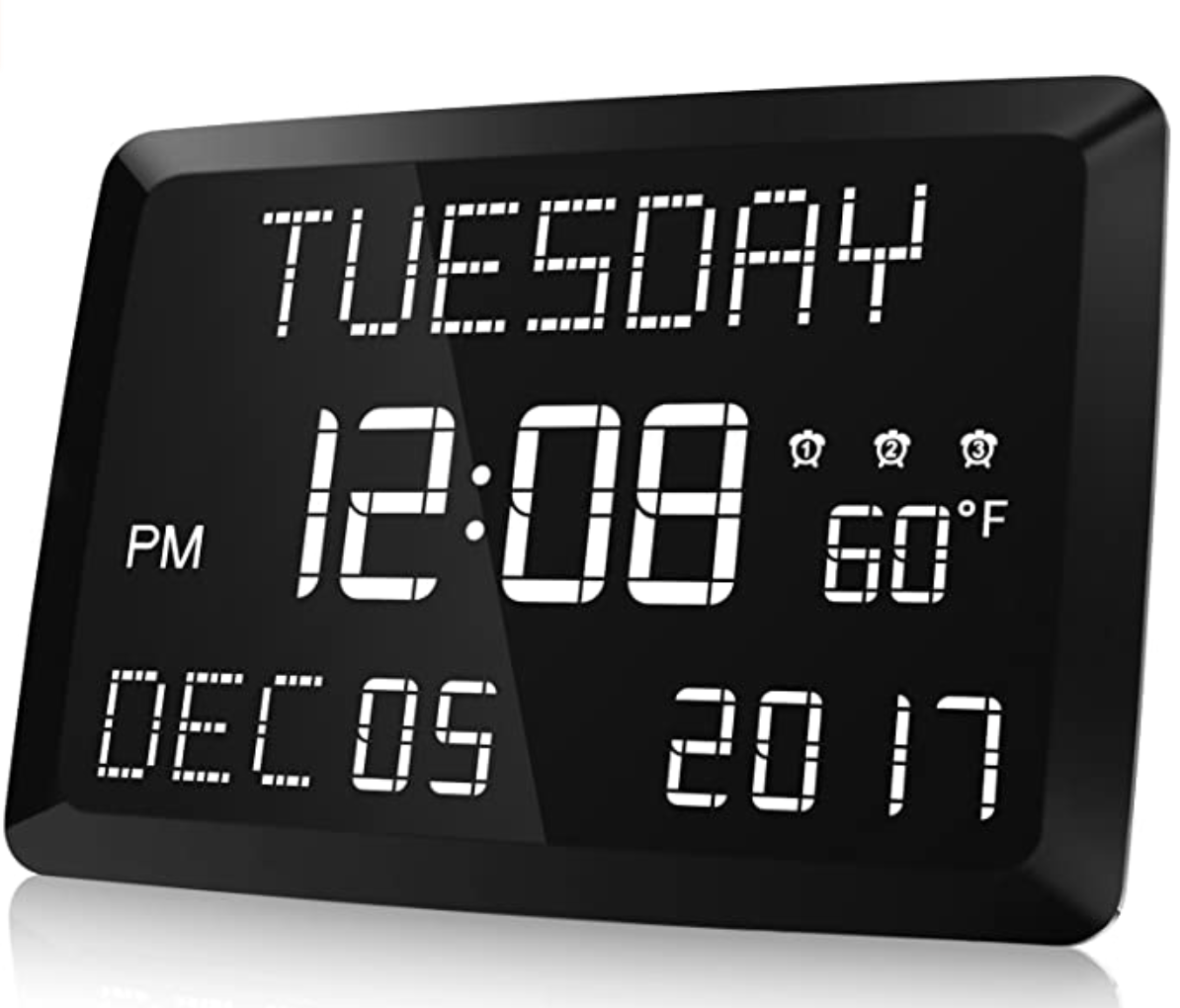 Raynic Digital day clock looks different than the other clocks we have reviewed previously. It comes with one large 11.5 inch LED display. On top, it prints out the full day of the week ,time in the middle and the indoor temperature and month,day,year at the bottom.
The letters are bold and large.The temperature can be set in either celsius or fahrenheit. It has 5 different levels of brightness settings. One more thing we love is its settings keys. For each different settings, it has separate dedicated keys. So, it will not be difficult for a senior person to change different settings.
Raynic clock features 3 different alarm and 3 alarm duration settings. You can set alarms to ring on all days of the week, only on weekdays or only on weekends.Different alarm volumes can also be set. You need to connect it to a power source using its adapter.
2 USB ports are on the side to connect external device for charging. You can use it as a table clock or as a wall clock.But we think keeping it on a table will provide you more functionality to use.
Features :
Large display size.
Five different levels of brightness.
3 different alarms with 3 different alarm mode.
Two USB ports on side.
Conclusion :
Calendar clock is a great gift for your loved one. It is not only for senior people, you can use it on any other purpose. Most of these clocks runs on AC power. Actually the large display requires more power and it is not possible without multiple batteries.
These clocks are 'plug and play' , i.e. just unpack it, adjust the time and connect to the power source to keep running. Even if on power failure, they have the capability to restore the date and time. It is up to you what feature and size you are currently looking for, but make sure to check the reviews and warranty information before placing the final order.