Top 5 Best Coin Sorter Machine : (Updated February 2020)
Best Coin sorter machines review: 2020 :
Coin sorting machine is an essential part of any small or large business. It can save you hundreds of hours and human- errors while sorting. Also, it can save some extra fee if you want to arrange the money at the bank. Coin sorter machines come in different size and capacity. Some machines are also capable of counting coins.
We have picked out top 5 coin sorter machines to help you choose the right one. Let's take a look (Please disable your Adblock if product link is not showing on the table below ) :
| name | capacity | speed | link |
| --- | --- | --- | --- |
| Royal Sovereign 1-Row Coin Sorter | 200 | 156 coins/min | |
| Cassida C200 Coin Sorter | 2000 | 300 coins/min | |
| Ribao CS-100 Coin Sorter | 300/400 | 216 coins/min | |
| Royal Sovereign FS-44P 4 Row Coin Sorter | 800 | 312 coins/min | |
| Royal Sovereign Manual Hand Coin sorter | 200 | N/A | |
5. Royal Sovereign 1-Row Coin Sorter (QS-1AC) :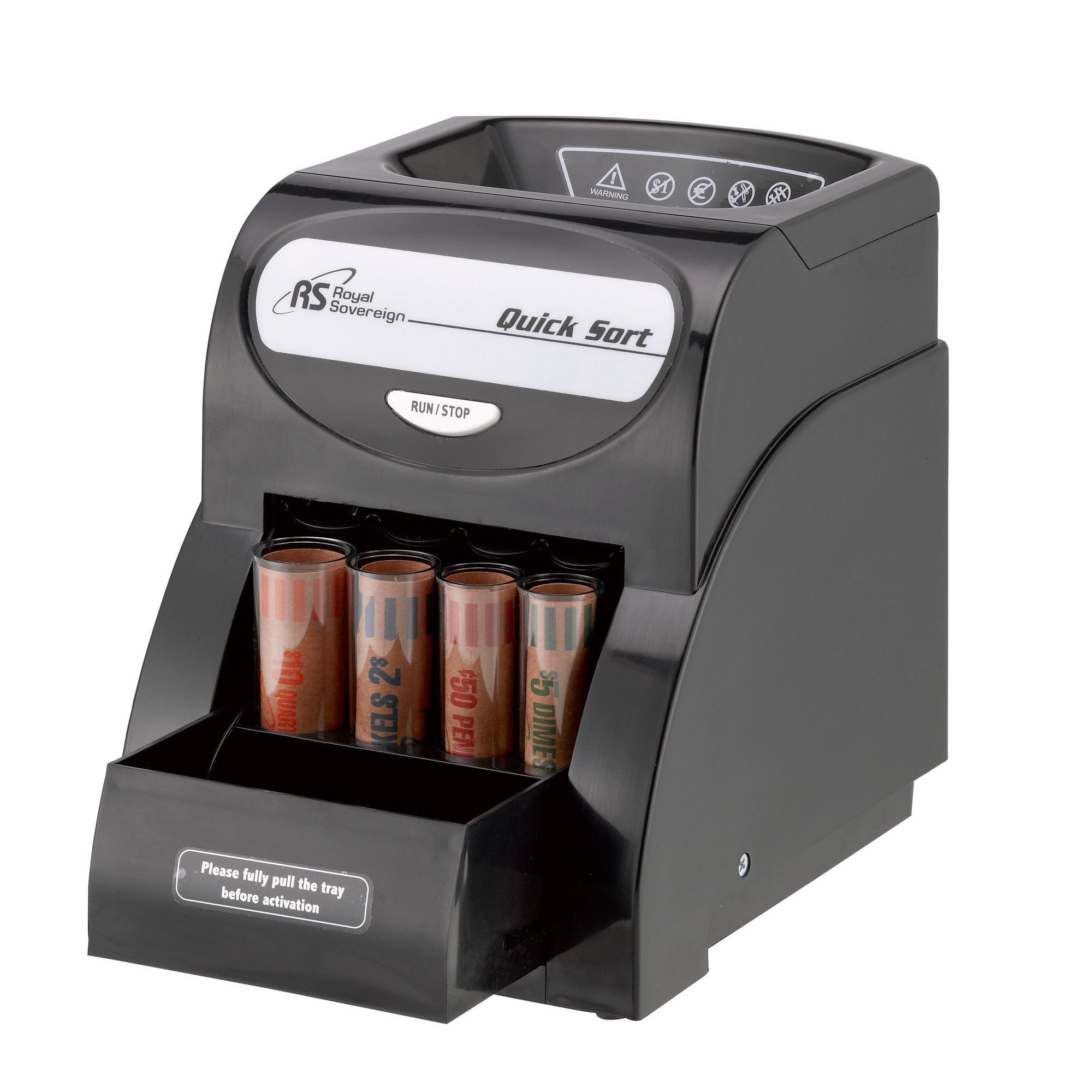 On our fifth place, we have one coin sorter machine by Royal Sovereign that can sort all of your coins into wrappers based on size. Put all pennies, nickels, dimes and quarters together and it will sort and put them in the sort tubes. Four coin sort tubes are included with the package. This is an AC powered sorter. You need a 120V outlet to connect to it. At max, you can put 200 coins inside it. The coin tubes for pennies and dimes can hold 50 coins each. Other tubes can hold 40 coins. It has one anti-jam technology to free jammed coins automatically. Also, the lid is removable. You can easily remove any jammed foreign items.
Features :
Maximum capacity: 200 coins
Sorting speed: 156 coins per minute
Patented internal anti-jam technology
4.Cassida C200 Coin Sorter, Counter, and Roller :
Cassida C200 is an all-in-one device with a LED display to show details of the result. It works with 1¢, 5¢, 10¢, 25¢ and $1 coins. Just add the coins on top and it will automatically count, batch and wrap them automatically. On the LED screen, you can have the total and dollar amount for each denomination. It can sort 300 coins per minute, hopper capacity is 2000 coins and coin drawer capacity is 900 dimes. If you want to make coin rolls, just replace the coin bins with coin tubes. It will then put the sorted coins into paper roll wrappers. Overall, C200 is a quiet, easy to operate coin sorter at a reasonable price.
Features :
It can sort, count and roll coins
2000 coins hopper capacity, LED Screen
300 coins/minute
3. Ribao CS-100 Coin Sorter & Counter :
Ribao CS-100 can count and sort coins into different counters. One LCD display is available to display the count and total calculated value. Value of each denomination or value of all denomination can be checked using the buttons. Counting speed is 216 units per minute and a large hopper capacity of 300 to 400 units of coins. Runs on AC power, this is one of the average quality Coin sorter and counter.
Features :
Coin sorter and counter
LCD display
300/400 hopper capacity and sorting speed is 216 coins/minute
2. Royal Sovereign FS-44P 4 Row Coin Sorter :
FS-44P printer can hold up to 800 coins and it can count 312 coins per minute. This coin counter features an attachable thermal printer option that will print out your counted value, you can save this as a record. One more great feature is its automatic row advancement that will automatically move the coin tray if coins are filled up and point to empty coin tubes. The attached LCD display can show the count and total amount calculated or amount of each denomination i.e. how much pennies, nickels, dimes or quarters are calculated. Also, it features Anti-jam technology that can automatically clear the jammed coins.
Features :
It can hold 800 coins and count 312 coins per minute
Can be connected to an external printer
LCD display, Anti-jam technology
1. Royal Sovereign Manual Hand Crank 1-Row Coin Sorter (QS-1):
QS-1 is a manual coin sorter that can operate without electricity or battery. Simply turn the hand crank and it will sort pennies, nickels, dimes and quarters directly into the coin tubes. It can hold 200 coins at a time. You can screws off the hand crank while not in use. The coin tubes are removable, coin-filled wrappers can be easily pulled out. The pennies and Dimes coin tubes can hold 50 each, Nickels and Quarter coin tubes can hold 40. Like other Royal Sovereign coin sorters, it's interior is also designed with Anti-jam technology.
Features
Manual coin sorter
200 coins at one time
Anti-jam technology