Smatree AE18000 Battery Base for Amazon Echo review
Amazon echo is an awesome device , but it's main drawback is that it should be plugged in always. But the good news for echo users is that different third party battery solutions are available to use it as a portable device. In this post, we will show you one affordable battery base by Smatree. Let's take a look :
Smatree AE18000 Intelligent Battery Base for Amazon Echo :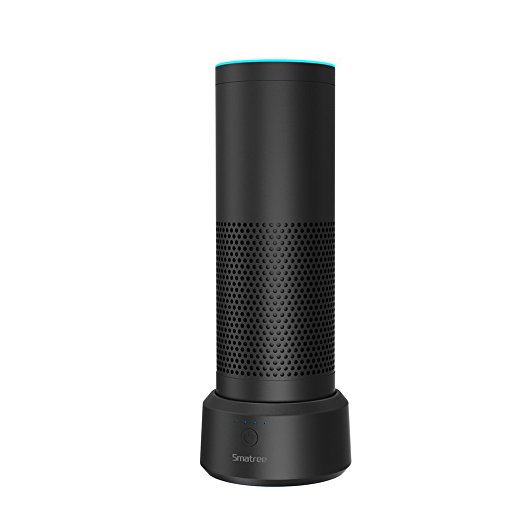 Smatree AE18000 is a battery base that allows to use Echo as a portable speaker. You can easily install it to the base of your Echo , no extra wire is required. Let's take a look into the main features :
1. Battery :
AE18000 has a battery with a capacity of 18000 mAh.On full charge, you can use the echo continuously for 8 to 14 hours. Echo takes more power on high volume . So, on low volume it can last up to 13/14 hours.
2. LED Power indicators :
It has four LED indicators to indicate the power level of the battery. Four lights means the battery is 95% to 100% charged, three lights mean it is 60% to 95% charged, two lights mean 30 to 60% and one light means less than 30% charged. These lights are useful to know the battery power condition and for timely charging.
3. No extra adapter is required for charging :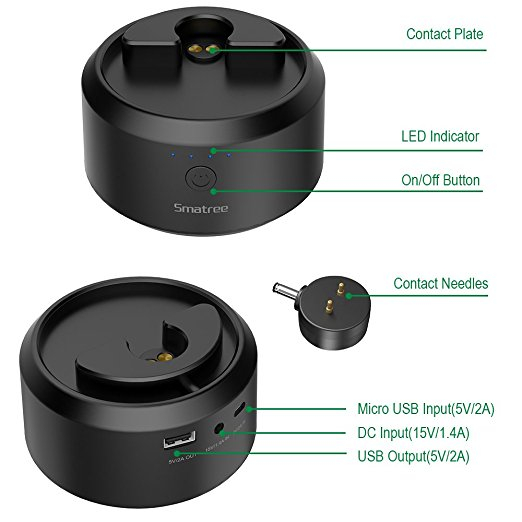 You can charge it by using the Echo AC adapter (15V/1.4A). It takes around 8 hours to charge using the adapter. Optionally you can also use one power adapter to charge it via Micro USB cord port ( 5V/2A ) .It will take almost 10 hours.
4. Easy installation :
Installation is easier than you think. First insert DC charging connector into Amazon Echo DC port and place the echo on the base firmly. And finally turn it on by using the on/off button.
5. Use it as a power bank :
Smatree AE18000 has three ports : two ports for charging and one for USB output. You can charge your smartphones or tablets using this USB port. This port is 5V/2A output port. Enjoy your music and charge your phone at the same time.
6. Intelligent Charging :
AE18000 can determine automatically when to start the charging . On fully charge , it will stop charging . You can keep it connected to the AC adapter without worrying about damaging the battery.