Top 5 Best Window Alarms in 2020
Introduction :
Windows alarm can provide extra security to your house, office or even to your RV. Using an alarming system, you can keep your home safe from break-ins and thefts. Window alarms are extremely sensitive. In this post, we are listing down the top 5 best windows alarm system to buy.
If you go through the list, you will see that mainly two types of alarm systems are available. Alarming systems are available in both wireless and wired, but, we are picking only wireless systems as these are easier to operate.
Top 5 best windows alarm systems :
| name | dB | link |
| --- | --- | --- |
| EVA LOGIK Modern Ultra-Thin Window Alarm | 120 | |
| Doberman Security Ultra-Slim Design Security Alarm | 100 | |
| GE Personal Security Window/Door Alarm | 120 | |
| Catsonic premium window alarm device set | 130 | |
| Door Window Alarm 8 PCS Home Security Magnetic Sensor | 120 | |
5. EVA LOGIK Modern Ultra-Thin Window Alarm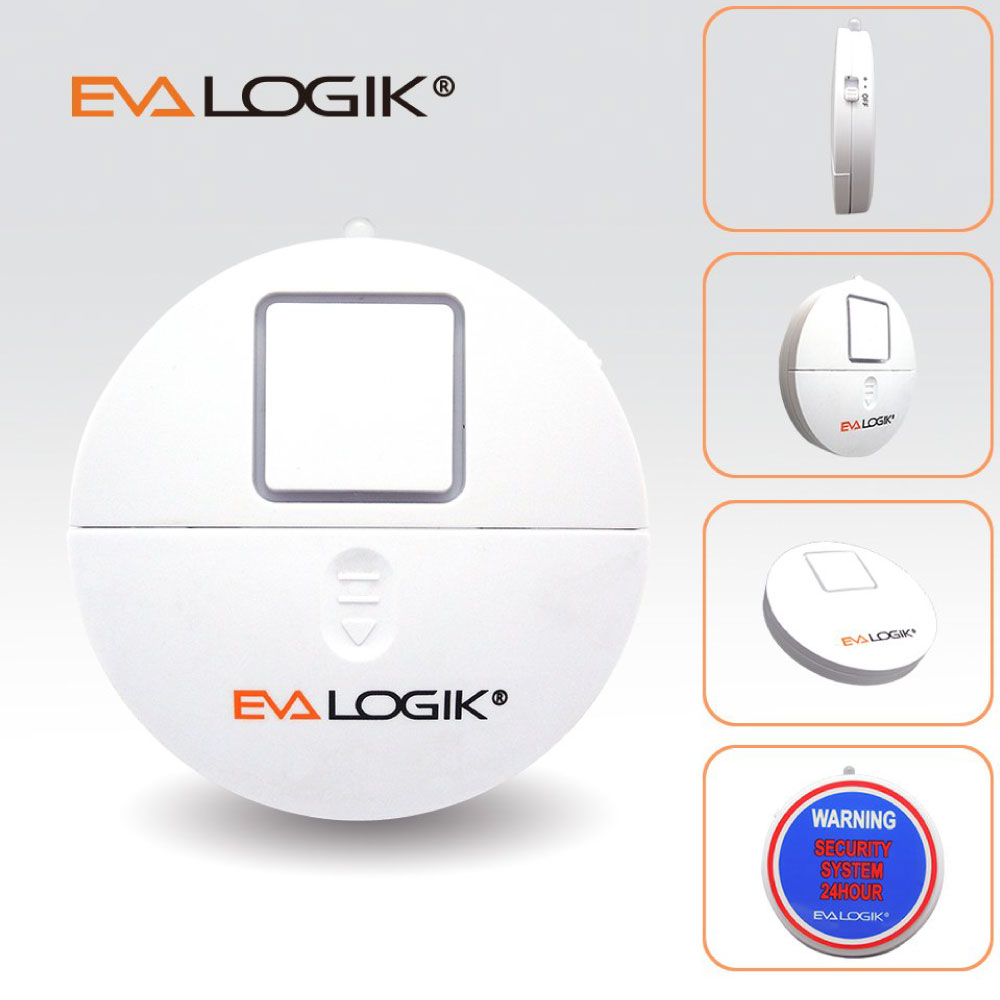 This alarming device comes with a loud 120dB alarming system that can be heard up to 300 meters or 1000 feet away. This is a battery operated device and two AAA batteries are required to operate. Installation is easy. Peel, insert the batteries and stick to your windows.
There is a warning sticker symbol on the back side that will be visible from outside after the installation is done. You can go for rechargeable batteries if you don't want to buy a new pair each time it got discharged.
The modern looking design makes it more beautiful. On top, there is a small LED light that beeps on every four seconds to alert any intruder. This same LED light indicates for low battery. It will beep continuously if the battery is low.
PROS:
Easy installation
Battery operated
120dB system
LED light indicator
4. Doberman Security Ultra-Slim Design Security Alarm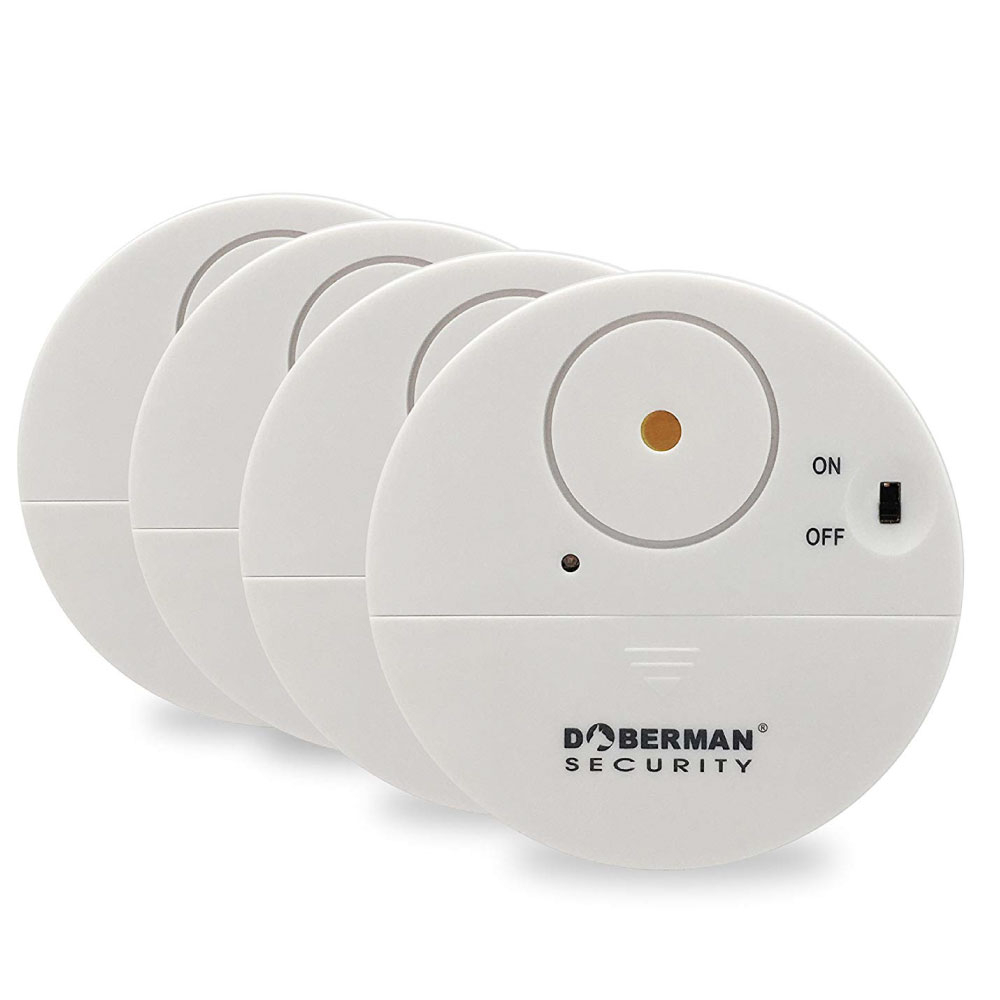 This device can produce 100dB alarming sound once it detects any potential break in. It comes with a built-in vibration sensor that can work perfectly in different weather conditions like wind, rain etc. Even the window is moved on windy days, you will not see any false alarm.
This is also a battery powered device. It needs three LR44/AG13 button cell batteries to operate. The ultra slim design will fit perfectly on any window you want. The back sticker looks nice from the outside. It has the word Alarm with a Doberman photo.
It has one LED light that blinks when you turn it on. It turns off automatically. This light is visible only from the inside. The plus point is that the battery will last longer. Also, the on-off switch is on the top and you can turn it on/off easily. The battery panel is also on top and easy to change.
PROS:
Easy to operate
100 dB
Battery operated
Nice looking sticker
3. GE Personal Security Window/Door Alarm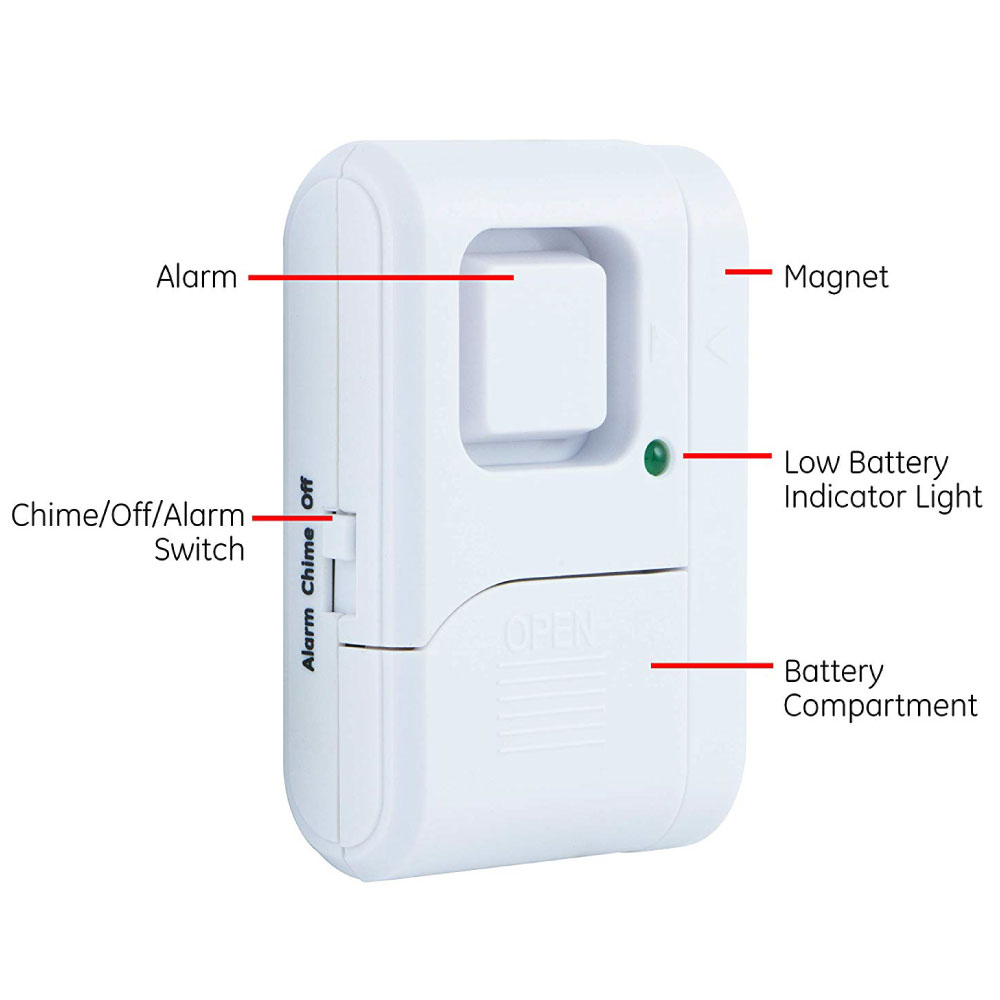 This is not a glass window alarm. This alarm system is designed for any other window or doors. Basically, it comes in two parts. If both parts are joined, it sleeps and if they are removed, the alarm will start. You will attach one part on the movable part of the door and the other to wall or something that doesn't move with the door/window.
This is a 120dB alarming system and really easy to operate. Make sure to put it inside, not outside. The intruder will not know if there is an alarming system. 120dB is loud enough to alert you.
It works on battery. Four LR44 batteries are required for each one of them. On top, there is a low battery indicator light to warn you if the battery goes low.
PROS
Window and door alarming system
120dB
Battery operated device
Low battery indicator
2. Catsonic premium window alarm device set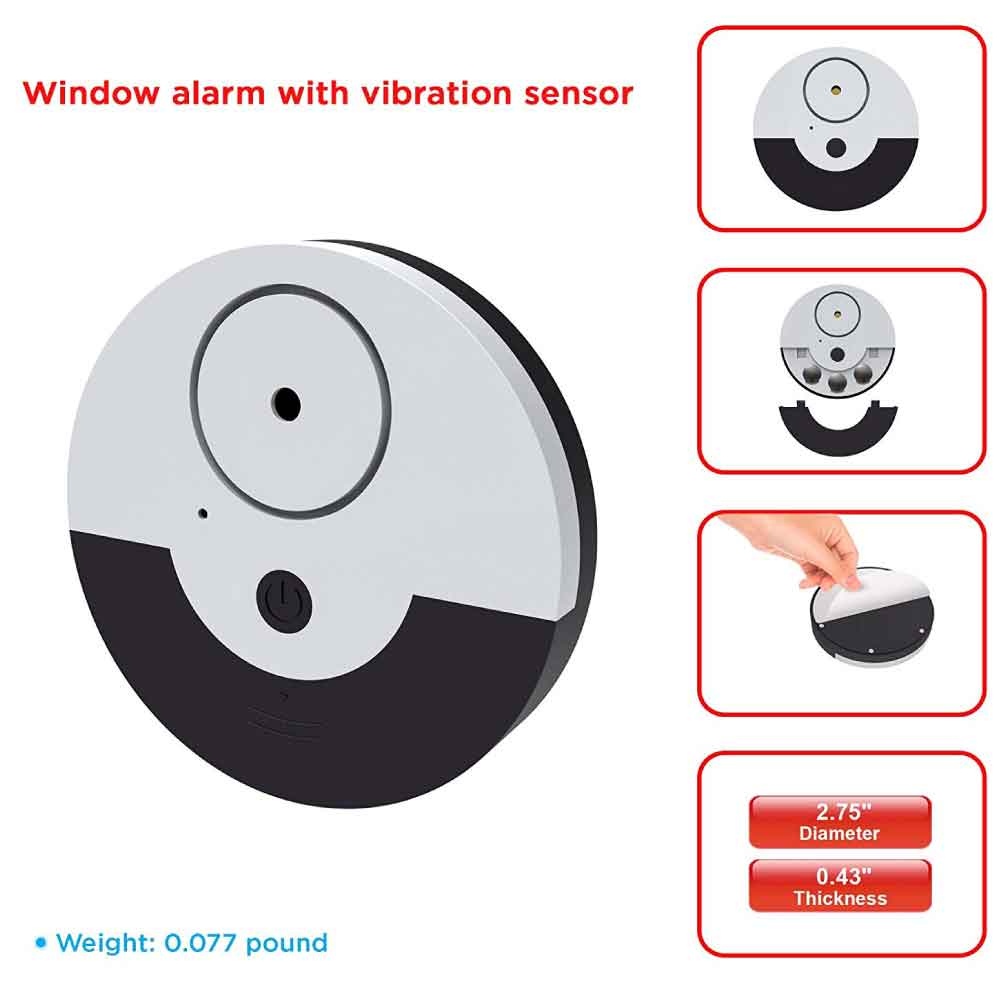 Catsonic premium window alarm device is a set of 130dB alarming system. This is designed for the glass, not sliding windows. It has a built-in vibration sensor that can detect any glass break. Catsonic also provides alarms for sliding windows as well.
This device is ease of use. You can install it just right out of the box. Peel off the protective film and put it wherever you like.
One LED light is on front to indicate the on/off status. The on/off button is push to start. Once you start the device, the LED will blink for five seconds and it blinks once if you turn it off. Three LR 44 batteries are required to operate. You will get three batteries with the purchase. The batteries last up to 9-12 months.
PROS
130dB
Glass window alarming system
Battery operated
Push to start button
1. Door Window Alarm 8 PCS Home Security Magnetic Sensor 120DB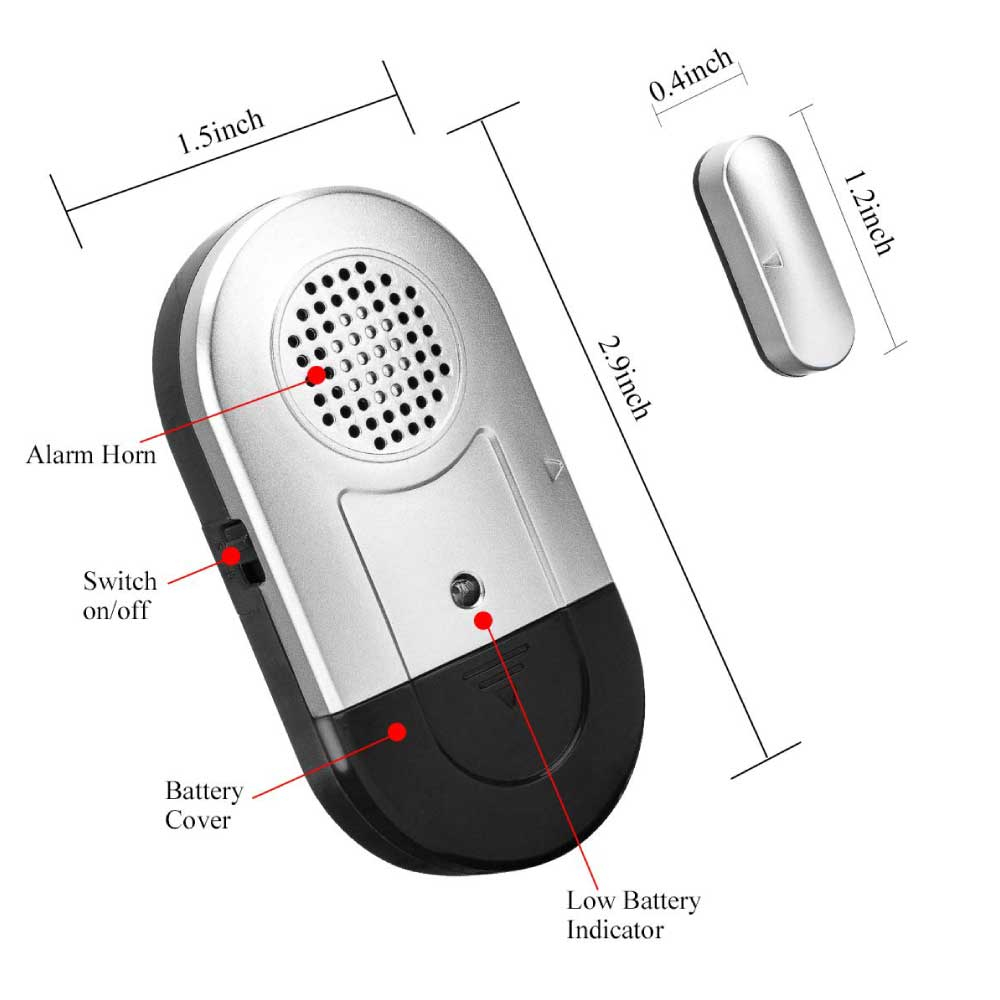 This is a set of eight pieces of magnetic window alarm. The size is really small, 2.9 inches height and 1.5 inches width for the alarm device and 0.4 inches width, 1.2 inches height for the magnetic piece.
Installation is pretty easy. As these are magnetic sensors, you need to paste one part on the moving side and the other part on the other side. Double sided tapes are included. Just tear and paste them wherever you want. It triggers the alarm immediately once the distance of the magnet and alarming device is more than 1 cm. The alarm automatically stops after 30 seconds. Alarm strength is 120DB.
One low battery indicator light is on top to indicate if the battery is low. Three LR44 batteries are required to operate and it can last up to 12 months. The batteries are included with each piece.
PROS
120DB alarming system
Small size
Low battery indicator
Batteries can last up to 12 months
FAQ:
1. How do window alarm sensors and alarm magnets work :
Window alarm sensors are of two types. One that works with a magnet and another that works on vibration detection. The first one consists of two pieces: Magnet and alarm device. If the magnet is close enough, the alarming device turned it off. Else, it starts the alarm. Similarly, the vibration detector alarming system detects the vibration intensity and detects entry for potential intruders.
2. How to disable window alarm sensors :
You can disable window alarm sensors but that depends on the manufacturer. You can check the guidebook for more information or you can simply turn it off.
3. How to replace window alarm battery :
Battery replacement is easy for all window alarms. Almost all products have the battery box on the front. That makes it easier to change/replace the batteries. You can go for devices with battery indicators. It will be easier if you know when to change the batteries.
Conclusion :
We have listed our top five favourite choices for windows alarms. Before making the final purchase, make sure to read all the reviews and features list of the product. If you have any question on any of the above product, just drop a comment below.